Happy (late) holidays to everyone! I have been MIA for a while now, but I have good reasons. First, finals - I survived, somehow, even though I doubted I would! Then, as soon as finals were over, we packed up and have been in Seoul, S. Korea for the last few weeks. My husbands family lives there, so we travel there most years.
What an incredible trip! I had a hard time with food this time around. I usually LOVE Korean food, but this trip started out with an accidental order of curdled blood soup (gag!!!). I couldn't eat it, and from that point on I was suspicious of everything! Doesn't it look gross?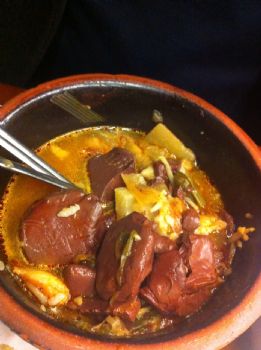 We also had sea cucumber, abalone, and jellyfish - all things out of the ocean that I never realized were even edible! :) They were okay, but definitely not something I would ever want to eat again. Otherwise, the food was fantastic. My favorite meals were at a Buddhist temple restaurant (all vegan food), and a homemade dinner at his parents house.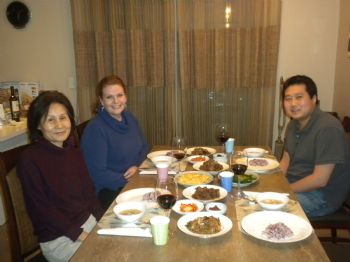 We also ate street food, which was all so tasty, but NOT the big pot of boiled insects!!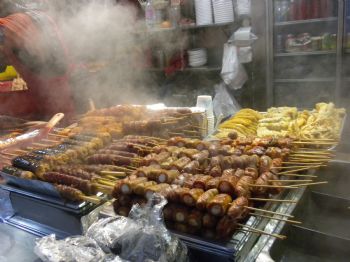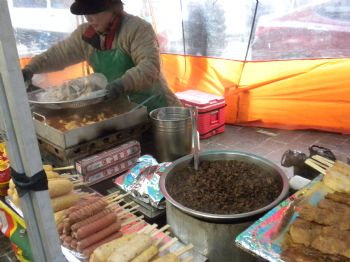 We did tons of walking and sightseeing. I am proud to say that I did well with both eating and working out, and actually lost a pound! Aside from walking, I did a resistance band workout in my bedroom 6 times during the 2 weeks. My trainer made this workout for me, and it was so great to have a quick workout to do with no weights! It was hard, because a lot of the exercises were done on the floor, and Koreans use radiant heat (under the floor), so doing pushups on a hot floor was weird :) But, I still did it.
This is the view of Seoul from his parents home. This is not even "downtown", and it is insanely crowded. Fun fact: Seoul is over twice as dense in population as NYC!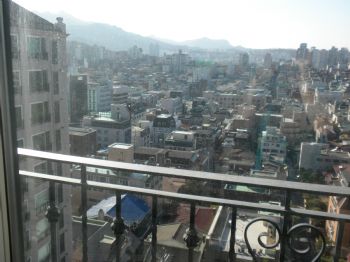 And these are random pictures of sightseeing, palaces in Seoul, and a funny "english" sign: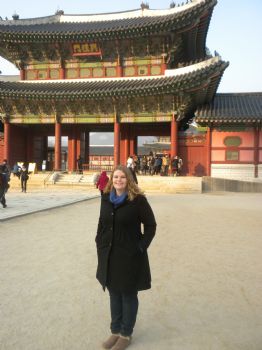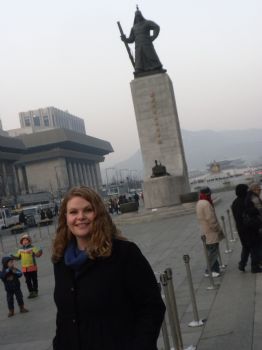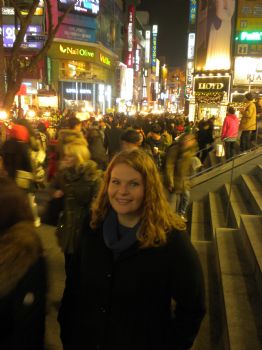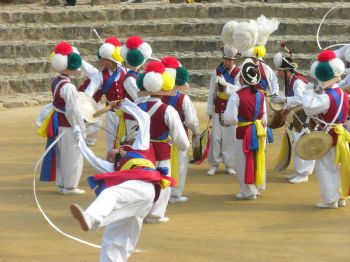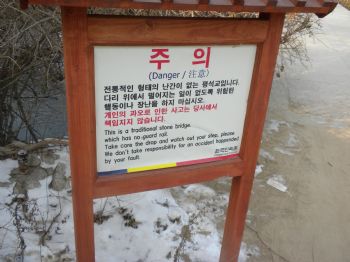 This sign says: This is a traditional stone bridge. which has no guard rail. Take care the drop and watch out your step, please We don't take responsibility for an accident happended by your fault. :)
And, finally - it is COLD in Korea! It was about 10-20 most days. Brrrr!!!