Today is my

and I am amazed how much has changed for me in a year on Spark People.
In one year I lost 50 pounds.
I maintained that loss for one year.
I joined Spark People a year ago and I can't believe how much my life has changed.
I did several things this year since joining Spark People I never imagined I would:
1) Reached my goal weight and maintained it!

2) I started cooking and eating healthier and I actually enjoy it!

3) I started running for the first time since I was forced to in high school and found out I actually liked it! I liked it so much I signed up for my first race, a 5k and my second, third, fourth and fifth race and half marathon!!!

4) I have found that when my motivation falters I can log on to Spark People, ask for help on the message boards, write to a friend, blog, or read articles about motivation and I end up feeling positive, energized, and hopeful!

5) Still exercise and enjoy it! No longer see it as a means to an end; i.e., just do it long enough to lose weight and stop (as I'd done in the past) but as a way of maintaining my energy and feeling good all the time! It is a lifestyle change for me!
6) Wore a two-piece at the beach and felt confident and comfortable!
Here I am with my daughter weighing around 182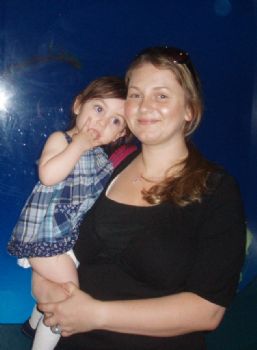 It seems like a long time but what if I never made that decision to make those small, positive changes? A year can make a difference.
It all starts with day

This is what I wrote in my first blog on Spark People
"I am afraid to set a goal... I am afraid of failing. So I sit here and do nothing rather than fail." I didn't want to try because I was afraid I'd fail.
But joining Spark People changed all that. I started to believe I could feel motivated again. I started to have hope.
About 10 days after joining I already started feeling better. This is from a blog:
"I started working out this week. I have already noticed that I'm sleeping better and have more energy. I used to wake up in the middle of the night. Now I'm sleeping more soundly and my body feels rested. The past 4 months I haven't been working out I have not been well rested. I didn't take time to work out. I felt stressed, tired, and told myself I didn't care that my clothes were getting tighter.
One of my goals was to have more energy and I have already met it!"
A few days later, I was already feeling excited and optimistic and took the guesswork out of what I was eating and gave me workout ideas.
"Now, I don't have to stress about food (I just track it using spark people). I don't have to wonder what to do at the gym (spark people gives me a strength training plan). I am excited to track the healthy foods I eat. I feel like I'm getting positive affirmation for the healthy things I eat. I feel excited to track my fitness and see how many calories I've burned. I am excited to input my exercises and food intake. Now, it's not what I should and shouldn't eat. It's about doing what's right for my body where I'm at now.
This year, I have started cooking, making recipes on Spark People, and involving my daughter, my "little chef" I have started doing more activities with my daughter and enjoying being outdoors, hiking, swimming walking, running, playing soccer, and more recently bike riding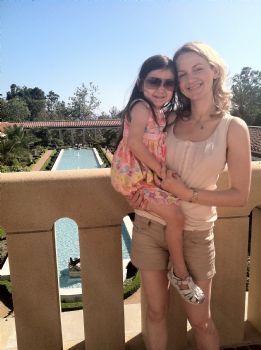 this is a definite change for me because I never liked sports or outdoor activities. Now, from Spark People, I've learned to incorporate my healthy lifestyle in my every day life. I can make a family outing something that we can all enjoy and I can get my exercise in at the same time.
This past year on Spark People, I have lost my fear of not reaching goals because I can see they are possible. I was afraid to not meet a goal so I preferred not to try because I feared I would be disappointed. Now, I realize I don't have to be afraid of setting goals because I CAN meet them. I can do more than I EVER thought possible.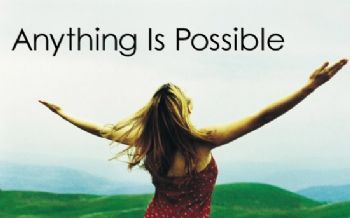 This year has given me Spark friends and a supportive community of like-minded people who are all on our way to living our best lives! These people regularly encourage me and help remind me to keep reaching toward new challenges. I am also happy when I can support and encourage them because I know that they CAN reach their goals. Many are successful and I see that Spark REALLY works!
Spark People takes the guesswork out of reaching your health and fitness goals. Want to lose 10 pounds or 20 or 50 or a 100 or more? Well, you can because I have Spark friends who have done just that. Want to start running or walking or dancing or a sport you used to enjoy but aren't sure how to get into it? Spark has teams for almost anything you can think of, articles, fitness tips and support. Would you like to start cooking but have never made anything other than a microwavable dinner? Spark People has recipes and a cookbook for people with totally user-friendly recipes. Think losing weight is too hard, too expensive, too time-consuming, or impossible? Think again. It is possible. It starts with small changes over time, not giving up and looking for creative solutions when you run into a problem. Hit a plateau and think you'll never get past it? There is a series of articles for that. Experience an injury or feel too limited to workout? There are articles for that and blogs and people who have done it just like you can.

This is me in December running my first half marathon!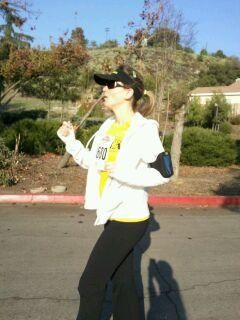 If you told me a year ago I would be running a half marathon I would never have thought it possible but Spark makes it possible. Start small. I started with the 5k your way walk/jog program. And eventually you'll get there. Don't let how far you have to go make you not want to start the journey. The journey begins with a step and and another and another until you are many steps closer to your goal.
This Christmas with my daughter