2011 was the year I learned that exercise was not a punishment. When I was younger and more stupid, I used to force myself to run until I couldn't breathe, to wake up in the middle of the night and do situps and pushups. To run flights of stairs for an hour if I ate pizza. Yes, exercise and I had a dysfunctional relationship.
Starting in March of 2011 I decided to finally try and lose weight the healthy way, and joined Sparkpeople. I hadn't exercised in a couple years so I started Leslie Sansone's "Start Walking" videos. She has a 1 mile, 2 mile and 3 mile one, which are 15, 30 and 45 minutes. I used the 2 mile one mostly, every weekday. I did not do any Strength training. I bought into that BS that people say ST will make you all big and unfeminine. Total BS.
I followed Sparkpeople's guidelines on calories and lost 1-2 pounds per week. For anyone just starting out...Just track your calories and exercise and it really isn't that hard to lose weight. There is no BIG SECRET, no MIRACLE DIET. Just lower your calories and up your exercise. Eating clean also helps, but it can be a challenge.
In April I started doing Strength training. Now I love it so much but it took awhile to grow on me. Now, If I have to pick between cardio and ST, I will always choose ST. Muscle burns calories while you're sitting on your butt, who doesn't love that?
Throughout the months, I upped my cardio to more challenging videos and in June I started running. I was hooked. The hard part is you really can't run every day or you start risking injury. I also discovered Circuit training which is one of my favorite ways to exercise because you get your ST and cardio in at the same time. I have to admit the closer I got to my goal, the more I did exclusively circuit training because I had trouble getting up the motivation to put a lot of hours into exercise. Also, it's really cold and wet in Oregon during Fall and Winter, so running becomes a lot less fun

Anyhoo to make a long story short (too late!), on March 22 when I started this whole journey I weighed 170 lbs and on December 31st (good timing!) I weighed 125, which was always my ultimate goal. I learned so much about myself this year, how strong I am, how far I'm willing to go to succeed the right way.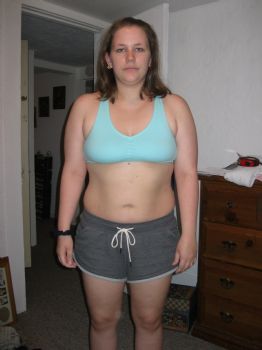 this is one of my earliest "before" pictures, taken in early June, I had already lost about 12 lbs.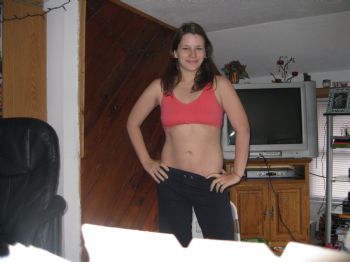 This was taken on Dec. 31st, 45 lbs gone and never coming back