Feeling kind of sick today...a bit feverish and sore throat. I think it's mostly because it's been so cold and I haven't been good about not walking around barefoot.
I'm working on my senior paper today - basically just an essay + presentation that is required for graduation. My topic is "Prenatal, Perinatal and Postnatal Foal Care" with an emphasis on perinatal emergencies and resuscitation. Fun times :)
I've decided on a NY goal: I'm going to streak. My only plan for streaking is the check-in on Facebook every day at Anytime Fitness. Even if I'm dead tired and only go for a 10 minutes walk on the treadmill or lifting weights...that's something. Besides, we know that 90% of the difficulty is going...once we're there, it's easier to be motivated.
NYE was fine - stayed at home and fell asleep watching TV with Zvika. We woke up at 12 am when fireworks went off...got up to get some water...had a kiss and went back to bed, lol :) We're old farts.
Yesterday was an excellent food day. Today is starting off okay but I'm feeling quite peckish - it's been a few days without sweets and I think it's getting to me.
Oh, and one other resolution - I've been hard on myself about losing all this weight in 6 months...but really, I'd be happy to get to about 155 as a first step. That's about 1.5 pounds a week which makes a lot more sense than trying to lose 3 pounds a week...
If I can be under 155 by graduation, I'd be stoked! Here is a picture of me at that weight and a size 10: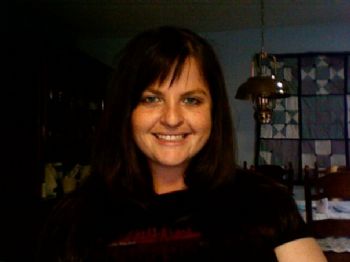 I think that's a pretty good start - funny, because it still puts me at 20 pounds overweight...it just goes to show that sometimes the weight isn't what counts...
Here is my pic at about about 193 and a size 16: