"Follow your bliss and the universe will open doors for you where there were only walls."
-Joseph Campbell
The year 2011 did not start out looking particularly promising. Actually, the word "bleak" might be a better term. I had rapidly gained weight over the preceding several months and topped out on the scale at 298 pounds. My home loan was in default and I wasn't sure if I would be able to fix it. I had a large amount of credit card debt because of the cut in my work hours, with insufficient income to pay them. I wasn't exercising, primarily because my right knee was so painful that I could barely walk or get in and out of the shower. I had just completed my Bachelor's degree, a 17 year journey, but was left so broke in the process that I could not consider grad school. I hated my job and felt trapped, despite just completing a degree. In general, I felt trapped. I was so aimless, though, that being trapped was a blessing in some ways.
In all seriousness, I considered abandoning my house, giving away my possessions, and wandering the country. I didn't want anything to do with this life. What stopped me? My pets. I knew it was not fair to them to re-home them just because I couldn't get my act together. So I knew that I owed them a home and I had to fight for it. I also felt ashamed because my family had helped get me into this house, and I did not want to let them down. Abandonment was not an option. I had to find a way to turn my life around before I spiraled into a deeper mental health crisis.
Considering its beginnings, I would not have thought on January 1st, 2011, that I would be sitting here writing about one of the best years of my life. Of course, SparkPeople was the life-changing force behind turning this year around. I had been logging onto SparkPeople frequently and doing some of the activities, but I was not tracking consistently. Nonetheless, those small activities added up quickly. My main goals in the beginning were to track and increase the amount of sleep I was getting and to deal with my finances. I used the tools on SparkPeople to track sleep and then to create and follow a budget. I felt more in control with those actions. By February, I was doing pretty well tracking my food. SparkPeople provided building blocks from which I could slowly expand upon good habits. Then, in February, a fire lit inside of me. I wanted my life back. Actually, I wanted a better life. Yes, I wanted to lose weight, but I wanted something more profound than just seeing dwindling numbers on the scale. Those numbers on the scale would not reveal who I really am. I set out to not find myself again, but to find the person I could be.
The doors that have been opened in 2011 have taught me that I can do anything I set out to do. I walked up to some of them and I created some of them myself. Now, the doors may not have opened the way I thought they would, nor have they always panned out, but I had the nerve to walk through them. I walked up to the door with a plan in place and was willing to pave the path once I opened them. I don't get discouraged by things not going "according to plan" as often. If it didn't go "according to plan," then maybe it wasn't the best plan in the first place. I accept the learning process now and am willing to open new doors if needed.
Image from http://robotmafia.com/opening-
door-by-arzamas/
"A small key opens big doors."
-Turkish Proverb
Writing has been a powerful force for me over the past year. I have always been a writer and this past year is not the first time that writing has saved me. Instead of writing imaginary stories, though, I have focused on blogging to help sort out my problems on paper (or on the screen). I will sit down to write about something in particular, and then I will get an idea and my fingers will start flying across the keyboard. Writing blogs has been a way to journal my thought processes, but has also created them. Writing has created many of the doors that I have opened this past year. It has also helped guide my way once the door has been opened. I have learned how all areas of my life are interconnected by writing down the details.
Of course, my beautiful SparkFriends have been my inspiration and rock throughout the year. I am so happy about the connections I have made. It has been amazing to watch people change, both physically and mentally. It seems that my SparkFriends always seem to have the right words, whether I need to light a fire under me or need words of comfort. Sometimes I am moved to tears. I am so grateful for the wonderful community here and the camaraderie amongst those of us who are sharing in this journey. My SparkFriends have ingrained in my head that change is possible as long as we are willing to open those new doors.
There was no aspect of my life that went untouched over this past year. Fixing my financial crisis was my first major accomplishment that taught me that hell-bent determination can truly solve problems. I was able to turn my finances around with careful budgeting and demanding that my work give the full-time hours I was supposed to be getting. I did not accept "no" for an answer. I haggled with the credit card companies and my home loan lender. By June, my home loan was out of default and I got rid of over $10,000 in credit card debt. Finances were still tight, but much more manageable. Actually, I had enough money to start pursuing some interests again.
I had been thinking about picking up my saxophone again after a 13 year hiatus. In July, I finally contacted the music shop where I had taken lessons as a kid to start lessons again. My old teacher no longer taught lessons, but there was another teacher with openings, a well-known local saxophonist. I was very nervous showing up to my first lesson with my teacher Jeff, heart pounding as I reached for the door, and feeling more at ease once I walked through it. Jeff has changed me with his creative power and uncanny way of tricking me into finding new ways to look at things and solve problems. Both intimidating and gentle in spirit, Jeff has helped me rediscover the power of music to help heal and teach. Fumbling through re-learning things and then being pushed by Jeff to challenge myself has provided a great creative outlet. Playing has spilled over into other areas and helped me learn that exercise, cooking, and other areas of healthy living can be creative, too. Finally, I have found someone to play duets with, and I look forward to expanding this creative outlet.
Besides reconnecting with my musical roots, my gym has been the other life-changing force this past year. My old gym served its purpose of getting me moving again and my knee was slowly getting better. However, I was very unhappy there. I walked out of the door of my other gym for the last time in September after several years of being treated with coldness and disrespect. I blogged about how I was nervous to start at a new gym and that I had allowed my fear of being treated badly stop me for long enough. I committed in writing to going to my new gym. I walked up to the glass door with the metal handle, swung it open, and marched in. I was prepared to defend myself, not physically, but mentally. I was prepared to be treated like a fat girl. Instead, I was welcomed and respected as an athlete.
I showed up to start doing Thai kickboxing (Muay Thai) again, and for a couple of months did Muay Thai and boxing. I watched the guys doing Jiu Jitsu before my Muay Thai class and became curious. I hesitated to try it, though. Would these guys be okay with a woman doing Jiu Jitsu? Would they be okay with having to touch a fat girl? Would I even be capable of doing it? I came up with every excuse not to try it.
The thing that probably caught me the most off-guard this year was my sudden undying urge to try Jiu Jitsu. I had a dream one night about Jiu Jitsu and woke up with an overwhelming urge to do it. I asked the Jiu Jitsu instructor Nate about attending Jiu Jitsu and he told to come on in and give it a try. I remember the first day I attended Jiu Jitsu class and being terrified watching them do forward and backward rolls. They look like somersaults. I couldn't even remember being willing to do somersaults as a kid. I asked my mother a few days ago if I had ever done them. She told me I had, but when I was 4 years old, I landed incorrectly on my neck and developed torticollis for almost a week. I couldn't move my neck. She told me I never tried them again. Yet here I am, at 33 years old and 250+ pounds, doing somersaults again. I have learned a lot about subtlety and patience by doing Jiu Jitsu. I have made new friends who have been very willing to take extra time to help me learn. I got my first submission yesterday and I was ecstatic. What a fitting end to a great year to have an athletic accomplishment. I never would have learned that I was capable of overpowering a guy who was bigger and stronger than me if I had not been willing to walk through that door for the first time a few months ago. I started the year 2011 unsure if I even wanted to live, yet ended it fighting for my life.
And finally, I have lost about 40 pounds total this year, a number I find very satisfying. Weight loss has not been my primary focus this past year (actually, I realized I had forgotten to mention it and came back to edit this blog). The weight has come off naturally, meaning I have not done anything drastic to lose it. It's pretty simple: when I track my food and eat within my calorie ranges, and when I don't, I don't lose. I also don't beat myself up for not tracking perfectly or eating perfectly. My relationship with food is the best it has ever been. Even when I am not tracking, I eat well most of the time. If I choose to have a treat, I enjoy it fully without any guilt. I have the healthiest relationship with food that I have ever had. Then again, my relationship with myself is healthier than it has ever been, so that makes sense.
The past year was about so much more than weight loss. It was my second chance at life, and for the first time, I am proving to myself what I can accomplish when I set my mind to it. I have proven to myself that I can get through adversity and come out the other side stronger than I was before. I walked up to doors having no idea what was behind them, opened them, and marched right in. Every door that I opened taught me that I am about so much more than my weight, and that this journey has so much to show me beyond the number on the scale. I no longer hesitate to open a new door, although I might be a little nervous at first. Despite being nervous, I still get the biggest grin as I reach for that door.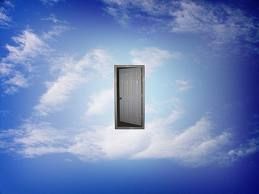 Image from http://yinvsyang.com/
"Year's end is neither an end nor a beginning but a going on, with all the wisdom that experience can instill in us."
-Hal Borland
I wish you a joyful New Year's Eve, SparkFriends, and hope you are reveling in your successes! Peace and Love!