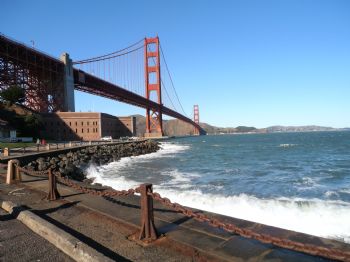 I've decided that coming home from vacation is almost as stressful as leaving for vacation.
Leaving.....must get all the bills paid, the house in order, bags packed, subs lined up and check in with the moms. Coming home.....must get the bills paid, the house in order, unpack the bags, thank the subs and check in with the moms.
I know I shouldn't complain, it IS after all VACATION. But, this vacation, coming home has been more stressful than usual. Taking a vacation just before the holidays is not always a good idea. Staying organized is not my strong suit and this just adds to the melee. Add to that hubby's leg injury...just before we left, he tore a calf muscle ...ouch! Things that were supposed to get done before...did not. So we hit the ground running on our return.
We managed to have a good time despite hubby's leg. The train ride was fantastic...a beautiful way to see the USA. GORGEOUS SCENERY right out our window. We had a roomette which is a large closet but, really quite comfortable and WAY better than coach. Big picture window, comfy seats.....meals and beverages included, peace and quiet when you needed it or you could go to the lounge or the observation cars and meals in the dining room. Hubby's leg was a bit of a problem on the way out...he had to maneuver around with a cane and the Doc gave him anti-inflammatory but, no pain meds. Our car attendant took pity on us and gave us an extra roomette for the second night and the third day...that way DH could leave the bed out and stretch out the leg during the day. On the way back we had a slightly larger accommodation with a day couch and a private bathroom....woo hoo! One thing to mention about the train...if my A$$ was any bigger, I might not have been able to sit in the cubbys they call bathrooms.
We stayed with our friends in Los Altos and got to see my cousin in San Fran, too. A rented wheelchair helped us keep the hubby going...taking it to the beach is NOT recommended......and we avoided steep hills (hahaha!). Called the Doc for pain meds (by this time his leg was black and blue) because...I couldn't sleep...because...he needed the meds. After a couple of days, DH was MUCH better (and so was I). We toured around the Bay area, mostly by car....didn't want to chance the trolleys. I've posted some pics and will try to post more soon.
Visited Sausalito and Santa Cruz, drove up Highway 1 and took in an Indie movie and saw "Beach Blanket Babylon" a hilarious, burlesque type, song and dance show.
Of course, eating was also a big part of our time there and the good news is that I lost weight before we left...because it's all back waiting to be lost again. Lost and Found.
Somewhere, in an earlier post, I may have mentioned....our long time neighbor passed away just before we got home. He had been debilitated for some time...since just before he retired almost ten years ago. I was glad we were back in time for his funeral. Then the day of our return, my mom fell at the mall and spent the night in the hospital....stitches and a concussion but, thank goodness, she's ok. She couldn't drive for a couple of weeks so, that meant I was on taxi duty. On Christmas day, my MIL was T-boned by a woman who ran a red light another thank goodness...she's ok but, the car is totaled. Could have been worse....she was driving a mini-van and the other car hit her's towards the rear. Talk about one thing after another!
Hubby's leg is doing much better, moms are good, we've made it through the holidays, I am slowly purging the house of the goodies and getting myself back on track...no pun intended....by eating my veggies. It's good to be back!