Sunday, December 25, 2011
OK. So out of nowhere, I was hit with an unusual depression this past week....but woke up this morning feeling better. This afternoon, however, I was missing the normal Christmas eve chaos with all the family and really wanted to do something more than just sit with my hubby, knowing I might lapse into sadness again. So I called my aunt, who lives about an hour and a half away, to see if she and her husband had plans for this evening. They were THRILLED beyond thrilled when I invited them to dinner! So we met fairly close to their house, and shared a lovely dinner at a restaurant.
We took the long road home, and when we were only a few miles from our house, I noticed luminarios lining a street. My hubby made a U-turn at the intersection and we went back to check them out...and WOW! The entire community of high end, elegant homes had lined the streets. Miles of them...I was blown away. So as we drove around I kept hopping out of the car to take pictures with my phone...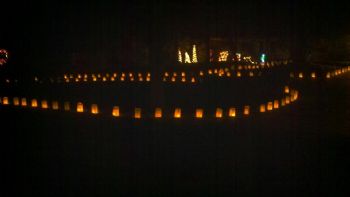 And then...
I saw it in the distance...
And we drove closer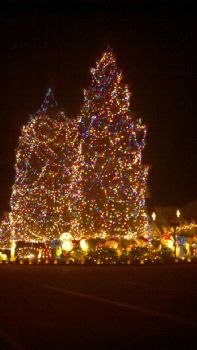 Til we got the whole thing...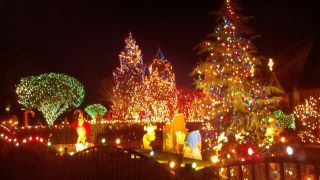 And I smiled...with gratitude...
The joy of Christmas far outshines any sadness in my life.