Well, we finally have her!! We drove 4 1/2 hours one way to get her, but she's ours!! When all was said and done we spent 10-11 hours in the car. YUCK!!
Tank of gas: $40
Coffee (for me) and energy drink (for DH) $4
Bed, food, bowls, toys, and harness: $75
Having Rogue here for Christmas: Priceless!!
Yep, we are totally in love!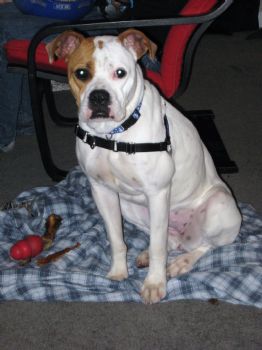 Yes, she's had accidents.
Yes, she's chewed things she shouldn't. (Like the nozzle to our air compresser that was in the back of the car with her on the ride home!!)
Yes, she wants to play with our 7 year old mini dachshund (who is cranky and not always in a mood to play!)
Yes, she is a lot of work right now.
We still love her!!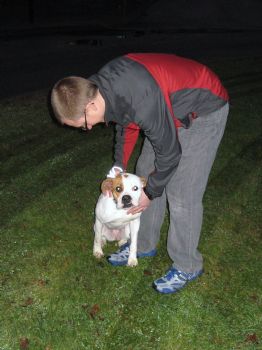 We borrowed a crate to put her in at night or when we have to leave. She doesn't like it much, but slept quietly all last night. We are hoping to be able to leave her loose in the house at night in the next week or so. She needs time to adjust and we need time to make sure the house is puppy proof. DD already asked if Rogue could sleep in her room.
She is very attached to DH. Kinda makes me wonder if she was attached to a previous man and if that guy was the one to bring her to the shelter and never came back. She stands and waits for him any time he gets out of her sight. Then, she is super happy when he comes back. Her little docked nub shakes so hard her whole body dances!! She is very happy to see any of us when we leave her sight and then come back, but especially DH!
We got her a gentler walker harness. We planned to get her a gentle leader, but the sales woman at Petco thought the harness might be better for her. Then again, she also thought being rude to me and making me feel stupid was ok, so that shows how much she knows. I've never used a harness before, so trying to make sure the fit was right and how to put it on her was interesting. The sales woman was very rude and if she had stuck around any longer I would have handed her the harness and walked out. She seemed fine when DH was dealing with her (I took the kids to the bathroom), but once she spotted me she went into major rude mode. Funny thing, she was probably old enough to be my mom!! Definately not ok, so the store will be getting some pointers on courtesy on their "receipt survey."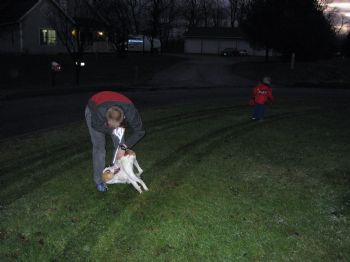 For all the hassle, the harness does seem to help. She is manageable with the harness. She is 45 lbs of muscle and has no idea how strong she really is. Impossible on a collar/leash, but pretty calm with the harness. Still not sure we have the fit right, but we're working on it.
I'm super wiped cause we didn't go to bed Wednesday night, left the house at 1am Thursday to drive 4 1/2 hours to Vermont. We picked up Rogue, then drove 4 1/2 hours back. THEN, we had to drive to the pet store to get a few things. Went to bed at 9ish last night, slept like a rock, literally a rock! Up early and busy. Had our family Christmas today, in-laws tomorrow, then my parents on Sunday. Guess I need to go to bed now!
Merry Christmas to all, and to all a Good night!!