Good Morning! It's a very exciting morning here today! Yes it it! I even woke up poor, poor DH to come and see...I weighed in this AM and it was 191.8. Didn't I just blog about this yesterday?! Don't worry, I know weight fluctuates every day and I've seen low days, but never this low, and this was after my workout and after I drank about a gal of water. I got on and off over a dozen times even got back on soaked from my shower and saw 191.4! YES!!!!!! So since I have been recording Sat weight, I recorded today instead... A little cheating, by a day early...nevertheless, a happy moment! 35.2 lbs!
Worked out last night and got today's in already this AM. This AM was Grueling! One of the hardest ones in a long time.
23DEC11 12 days of CrossFit Christmas
Workout Of the Day: "12 days of Christmas"
1 Muscle Up (or in my case...I did 5 dips, since I can't quite get a muscle up yet)
2 Pistols (that's a one-legged squat, so instead I did 5 reg squats)
3 Handstand-Pushups (I did pike pushups)
4 Kettlebell Deadlifts (35#)
5 Kettlebell Swings (35#)
6 Lunges
7 Push-Ups
8 Broad Jumps
9 Med Ball Clean & Jerk (14#)
10 double-unders
11 Burpees
12 Wall Balls(2 for 1)
Done in the same way as the song 12 days of Christmas.
I started with 5 dips
Then 5 squats + 5 dips
Then 3 pike pushups, 5 squats, 5 dips
Then 4 Kettlebell deadlifts (35#), 3 pike pushups, 5 squats, 5 dips You get the idea! CRAZY! It took me 33 mins. I think without the sinus infection, right now, I would have done better. Here we are afterwards!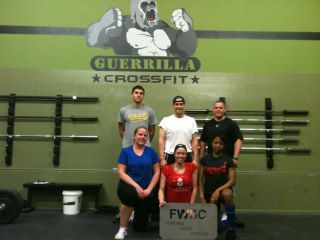 Merry Christmas!