Thursday, December 22, 2011
I've posted a few times about my writing for examiner.com as the Albuquerque Running Examiner. The site is sponsoring a contest called America Inspired. America Inspired is a contest that celebrates extraordinary people who are making a difference in communities across the United States. The winning nominee will win $50,000 and the winning writer wins $10,000.
www.examiner.com/americ
a-inspired
I tried to contact a number of organizations throughout Albuquerque for nomination ideas, including the Albuquerque Road Runners Club, the organizers of the Love Run Tri race, all the Albuquerque Public Schools althletic directors, and the Rio Rancho public schools activity director. I received no responses. I was bummed out. However, I remembered that some of the preschool teachers mentioned a race to me last year when they found out I was running. I emailed my son's preschool principal. She replied back that she knew the mom I was talking about and thought it was a very deserving nomination. She coordinated my contact with the mom, Sarah Baca, as well as teachers at the school. With my husband's help, I finished the article today. I'd love if you checked it out!
exm.nr/vDUoMS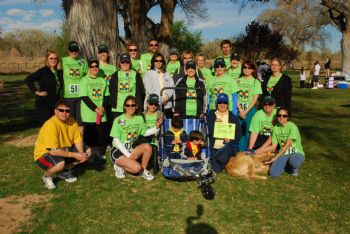 Nominations are due December 23. The editors at examiner.com will choose 25 finalists from all of the entries. Public voting will begin on January 9 and end on January 27. I would love for this mom to win the contest and any publicity for it would be awesome! I thought I could reach out to my SP community for support.

Any "likes" or comments would be greatly appreciated and I hope they would draw attention to the article for the editors. Sharing the article would be awesome, too!
Thanks for all of your support and kind works for my writing so far. I'm glad some of the SP community have found my examiner.com articles useful.