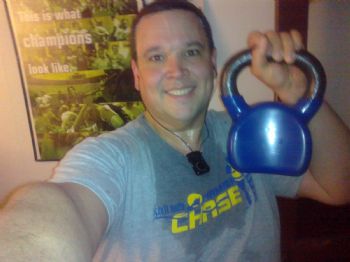 ** The sweat is REAL.... **
Me with a 20 lb Kettlebell...
I have this thing about strength training, check that, more of a mental block...
For some reason I have this mental thing about not wanting to give up cardio time for weights. Frankly I just like to put my brain in cruise control and go for a run. After a 30 min spin on my indoor cycle trainer I took on a personal challenge.. I wanted to see how many calories I could roast in just 10 minutes with a Kettlebell.
In short I couldnt hack a full 10 min routine so I did as much as I could, immediately transitioned to 20 lb dumbbell curls then grabbed the KB again for another set of swings. In short, I was a mess. I was a little sweaty after 30 min on the bike, I was a soup sandwich after the KB..
Here are the stats...
Indoor cycle trainer... 30 minutes HR max 139 / Avg 113 calories= 465
-not too bad for a relatively easy cycle with intervals
Kettlebells w/ dumbbell curls both 20 lbs 10 minutes HR Max 154 / Avg 143 calories = 226
Yowzers, that was intense.... I will bite my lip....... I need a Kettlebell routine
691 calories destroyed in 40 minutes...REST IN PEACE...
Here is a link to get the basic Kettlebell routine. This video is the one that came with my Kettlebell.-- full version
Bob Harper Kettlebell Basics Body Shred Workout provided by GoFit.net

youtu.be/iZIbQXa_4rU

-Enjoy