Sunday, December 18, 2011

RUNNING

I love running. Some days I take off and feel great the whole run, like I could run forever. It feels like I remember running as a child, easy and fun and exhilarating. Some days I take off and feel awful the whole run, like I just want to walk. It feels sluggish and hard. I struggle to breathe comfortably or find a good pace. But no matter which kind of run I have, I love them both. I've never come back from a hard run and wished I wouldn't have even gone. No way. It doesn't happen. I wish everyone could find some form of exercise that makes them feel this way.
Ever since I finished the Couch to 5K program I've been running a 5k around my neighborhood a couple times a week and jotting down my times. I finally put it into a spreadsheet for analysis yesterday. I'm an accountant and love numbers. Here's the results: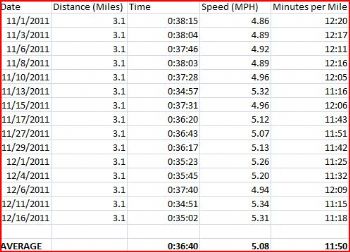 Pretty interesting! After I finished C25k I didn't have a new goal, just wanted to keep up that distance and possibly get faster and possibly it would start to feel easier to complete. It does feel a bit easier but I'm still ready to walk when I hit that marker.
To help with speed I've been doing this speed exercise on the treadmill once a week. I still can't complete the beginner level all the way through, but I am improving.
www.sparkpeople.com/reso
urce/fitness_articles.asp?
id=1147
I prefer to run outside but when the weather doesn't allow for it, I hit the treadmill. I can't run as fast on my treadmill. I'm good at a 4.7 MPH pace for the 5k distance. That's fine with me, I just find it strange. I've always heard running is easier on the treadmill because it pulls you along a little. It's harder for me. Maybe because it's a steady speed where outside my pace probably goes up and down naturally. Or maybe it's just because the treadmill is pretty boring. Anyone else slower on the treadmill?
Next, I think I'll work on increasing my distance to 10K or being able to run for an hour. About the same thing. There's two programs I found but haven't decided on one yet. One called Bridge to 10K is like C25K in that it uses run/walk intervals. The other is called One Hour Runner where you increase you're running a time a few minutes every week focusing on one longer run per week.
Bridge to 10K
www.sparkpeople.com/mysp
ark/team_messageboard_thre
ad.asp?board=0x46058x37057505
One Hour Runner
www.sparkpeople.com/mysp
ark/team_messageboard_thre
ad.asp?board=2750x14976x32102857