Thursday, December 15, 2011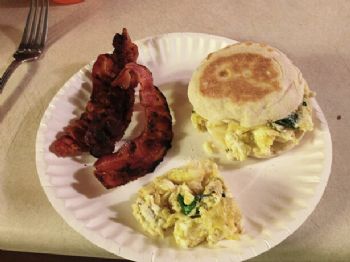 MMMM. So good. It is:
3 egg whites and half a yolk scrambled with 1/4c fresh baby spinach
a triple health 100 calorie english muffin
1 slice reduced far provolone
3 slices of regular cut bacon
I should have put a slice of bacon on my sammich, but it was devoured before I thought of that.
Today is our Christmas Potluck for our department. I brought all the rest of my Christmas cookies and saved 2 of each kind (My Cookie Noah's Ark). We are having cold sandwiches so that will be healthier than the italian beef last year. Im going to shoot for taking lots of veggies/fruits to fill me up and then tiny scoops of other things.
Weighed myself this morning and I am down 1lb from last week. I feel like it's a TRUE pound- not just water weight or because it was the morning etc... I was pretty good this week and worked out 2 days. so far. I skipped last night because of a giant headache.
Friday is a big party where I will be eating bar wings and drinking heavily. No doubt. So I want to get up Friday morning to work out. Saturday morning I will probably no good for a workout, so we will see. I will be walking around shopping all day though.
Bring on the day!! I feel like popeye after eating all that spinach- pfft jk it was only 1/4c!