Thursday, December 15, 2011
For a compulsive overeater like me it is obviously sheer madness to make christmas candy... though a lot of experience I know that the only way to manage it is to be black-white about it - I canīt "just have one" I can only stay off it all together.
My friends at Mimulus gave me some ecological chocolate to make gift wraps from and this is how it looks: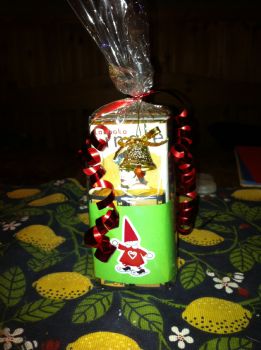 They are selling them in their coffee shop and I had no problems since they are all wrapped... but then my daughter and me are making candy this weekend and that will be harder. And yesterday the news agency had sent a lot of candy to our editorial office and I had to take "only one"... which ended with me eating about ten o those...
But the fun of making candy together with my daughter surpasses the negatives of eating too much of it, I will do my best to stay away and that will have to do.
On the good side (or maybe not considering that I donīt have that much money) I ordered the "Body Groove Delicious dance...I thought it would be fun for me and daughter to do together since she is very much into dancing for the moment and that Dvd Seems to be good to use for people on different fitness and agility level... unfortunately it will not arrive before christmas which is sad, I thought ten days would be enough from the US, it is not heavy stuff but according to the amazon message it will not arrive until january, I thought we could have fun during christmas break with it but we will have fun hooping instead

which reminds me that daughter wanted a polstered hoop to practice with at her fathers house too - I will order one immediately because that will arrive before christmas!