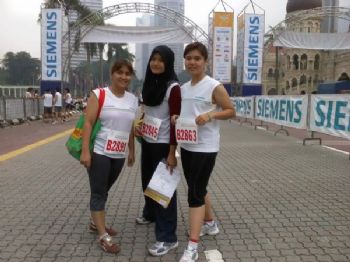 My first 10K!!

Yeah… it was Siemen Run 2011, held in Kuala Lumpur, Malaysia on 25 September 2011, my first one and the time record was like, urghhh!! 1 hour 44 mins as I checked in the website.. Not sumthin to be proud of…cuz I wasn't really running, I havent run for quite some time, it was just after a month of fasting which was in August, so I couldn't really run for even 30 mins straight…But i managed to finish it..and i wasnt the last one.. TEEHEE~
Here is the route map:-
www.hooha.asia/images/st
ories/siemens2011/siemens%
20route-amended.jpg
It was a very good experience..awesome actually.. i want to do it again!! I want to improve my time..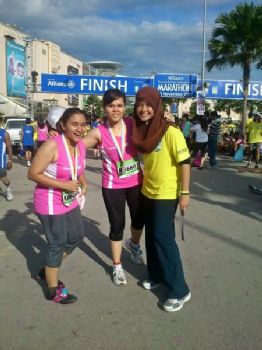 The second one is in last November, on 20th, I joined another 10k, but regretfully I joined the Fun Run, which made me unable to check my time!! I think I run better this time,

cuz I run a lot and walk only few times… The run was an annual international event, called Penang Bridge International Marathon, here is the site:-
www.penangmarathon.gov.m
y/portal/
I run alone this time, cuz the other two friends of mine join the 10k Run, and they received medals for completing.. I only received the certificate..damn I should have join the 10k Run instead of the Fun Run…

Well eventho I had gained some weight few months ago, I don't lose my stamina, my interest in running and sports, and yeah, that some weight ive gained, im not going to see them again.. I will lose u!!