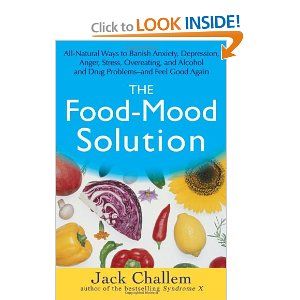 ** I AM NOT ENDORSING THIS BOOK - JUST MAKING IT AVAILABLE. **
** There is at least one used book @Amazon for $.01 = $4.00 after S&H added. **
www.amazon.com/Food-Mood
-Solution-All-Natural-Depr
ession-Problems/dp/0471756105
Best known as the "Nutrition Reporter" for consumer health publications (Alternative Medicine; Body & Soul; etc.), Challem (The Inflammation Syndrome) describes a familiar scenario: rising levels of anger, impatience, frustration, fatigue and anxiety due to minor daily irritations. Citing studies of increased violence traced to mood disorders, Challem contends that basic but highly specific diet and lifestyle modifications can lower stress levels and radically improve behavior and health. While the effects of poor nutrition on health take years to manifest, he says, such effects on mood are readily apparent, and he urges readers to notice how certain foods and beverages lead to headaches, fatigue, poor sleep, depression, compulsive behavior, panic attacks, bipolar disorder and other increasingly common conditions. His plan targets neuronutrients (vitamins and minerals needed to make critical brain chemicals) and nutrisocial factors (family, workload, environment, advertising, etc.) to boost mood.
After taking a few quizzes, readers will be guided through a four-part program: supplements, diet, exercise and lifestyle. While the information is not entirely new, Challem does solidly address the hardest part of his equation—and that's the lifestyle change itself.
** I AM NOT ENDORSING THIS BOOK - I HAVE NOT EVEN READ IT! I FOUND IT THIS MORNING AND AM MAKING THE INFORMATION AVAILABLE FOR ANYONE THAT MIGHT BE INTERESTED. **
I am doing this because since changing my own eating habits - totally on my own - I am feeling much better and while it is TMI, I have not needed deodorant since giving up processed foods on my own. I simply have no body odor anymore, not even after sweating.
For those with mood disorders, it would be worth checking the book out at your local library for a look-see anyway.