Hi Sparkers!
I haven't updated in almost a month (sheesh!), and, scanning over my last post, I left here in a not great frame of mind. But that isn't why I left. I'd been pushing myself quite hard with my jogging and my knee was starting to bother me. It wasn't injured but it didn't feel right. I'd wake up some mornings and my knee would ache. I knew I was on the path to injury, so I decided to take a week or so off until my knee got back to normal. Well, once my knee finally felt right, Thanksgiving arrived. Mine was delightful - I spent it with the bf's family for the first time, and it was lots of fun - and I hope everyone here had a nice one too. Then after Thanksgiving settled away, I came down with a bug. I know, I know, there are a few days I could've squeezed exercise into, but I didn't.
I did, however, continue to try to be mindful of my diet and my portion sizes. And, this is a little bit of cheating, but I lost my appetite when I fell sick, and could only maybe eat a meal a day.
Bottom line, with being mindful of my food prior to the illness, I dropped a couple more pounds off of what I lost while eating well and exercising, and then with being unable to eat I lost a few more. I know those illness-weight-loss-pounds are likely to come back, but as it stands right now I weight 140.8 lbs. (quick reminder, I started out at 153 and my goal is 130...that's right, I'm just over halfway to my goal!! YAY!!!) I haven't measured inches lately, so I can't update that. I can however update the skinny jeans situation. I think I'll let the photos speak for themselves.
Week 1: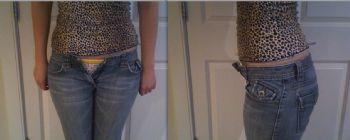 Week....I don't know but right now:

THEY BUTTONED!!!!!
There's obviously need for a little improvement in the muffin-situation, but holy moly they zipped and buttoned. I weighed in the low 130s when this pair fit properly, but darnit I'm sitting here in these jeans writing to you right now.