the way my life has been lately with internet being turned off at home I feel , no , I know
that it has been interfering with all of the thing I want to share with everyone.
I think the best way would be with phone pics going back to the beginning of october
when I started to get back in touch with the german dance and music club.
It is a beautiful and historic building. this is the bar. one thing to note is that there is
no wall paper in this building the patterns and pictures are hand painted.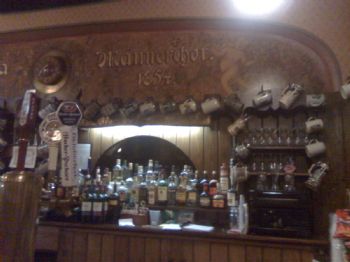 The Alpine Schuhplattlers dance in the upstairs hall. this is the group that I am going
to be part of again. only playing guitar not dancing. the due's are due in January so
no sense in paying now then again in january since they allow me to practice with them now.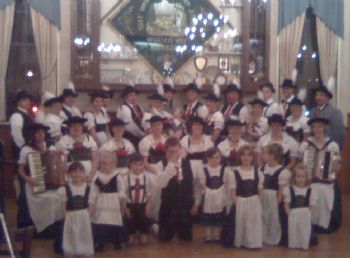 Halloween came and went. I didn't get a picture of my pumpkin he only lived
one day I carved him to life on halloween and puree' him the next day.
I know it is not the perfect cooking pumpkin but I like my pies to have a lighter color
"jack-o-lantern pie" my own unique recipe too!
Then there was thanksgiving it was a late dinner so I had breakfast early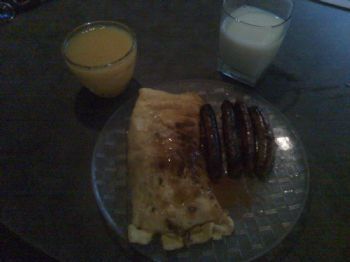 My sister in law did a real good job as a hostess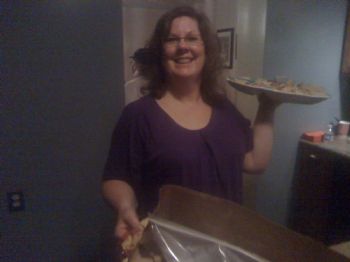 but i think they made too much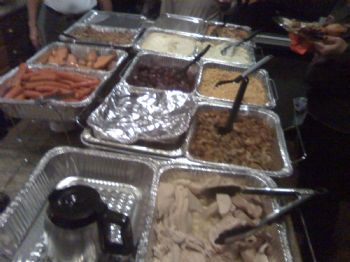 and soft drinks
The imported adult beverages and german 80% chocolate was down stairs out of
the reach of minors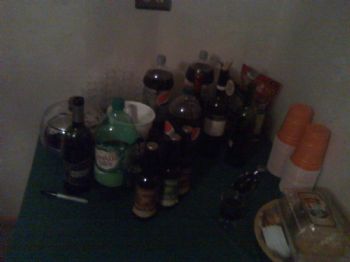 and this picture is dark but there is my sisters version of
"jack-o-lantern" pie here somewhere she uses my puree' recipe
but her own technique-- mines better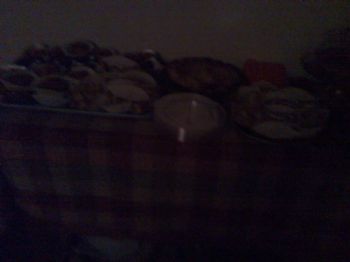 then came the eye operation-- no pictures thank goodness
it definitely changed things now every thing looks crisply out of focus
which is different than foggily out of focus oh well
Next was the breakfast with santa at the American legion
my job was to "open " for santa with about an hour of music and carol.
I knew the kids and probably their parents would not know the words
so I made up a few programmes and taped candy canes to them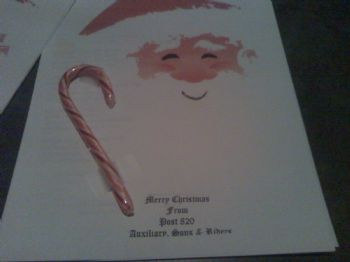 They told me to figure on 15 to 20 kids but since there was 2 days left before,
and I was home due to my eye I decided to call the V.P. of the aux and ask
How many do we need?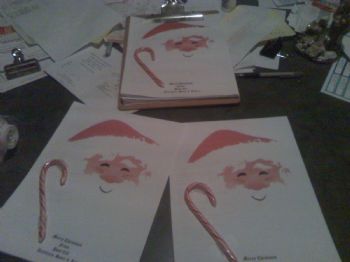 I was not amused when she replied 45 -- good grief I was 25 short of these 9 page
programmes-- nice of them to call-- it is a good thing I don't count on
anyone anymore
I figured some extra candy canes would be a good idea too
and santa hats for us
The first 1/2 hour I spent walking around the other volunteers and
families as they arrived playing sleigh ride, I'll be home for christmas,
winter wonderland, and other songs instrumentally.
then the second 1/2 hour I had E an B my two (wonderful when they
want to be) daughters help me form
" The Christmas Tree O"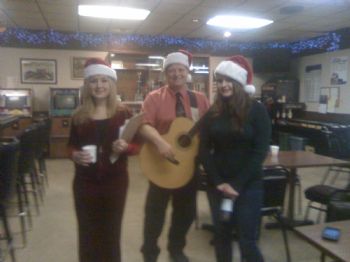 We had fun and finished a little early so it was necessary to keep singing
Here comes Santa Claus several times before he actually walked in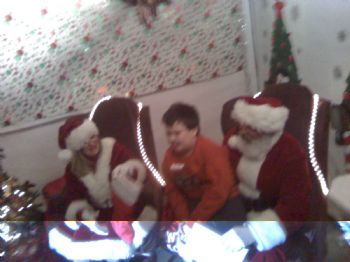 By the time he hit this chair any flaws in our performance were long forgotten!!
But
------------------------JIM-
--------------------------
-------------------------------
----------------------------
--------------------------
---------------------------------
----------------------------
--------------------------
---------------------------------
----------------------------
--------------------------
---------------------------------
----------------------------
--------------------------
---------------------------------