Today is one year that Iíve been working with my fitness and nutrition coach, Kai Carlson.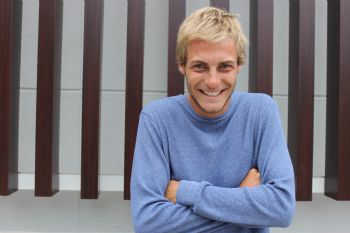 Iíve lost 80+ pounds in that time and I can truly say I am a new person. I actually lost the weight in ten months and have been maintaining it for the last two months, so Kai has been even more successful than the numbers make it sound.
Last December 5th, 2010
I was 237 pounds and was barely doing anything but walking a few times a week. I had lost 40 pounds in my first 3 years on Spark People and I was losing one-quarter pound a week at this point. My metabolism was set to ďdimĒ. I was sick and temporarily living at a place with a pool and too unmotivated to use it. I was eating mostly raw food as if going to prison every day. Almonds over the sink, and Cuties until I made myself hate them. Then, of course, eating chips or whatever later when I was bored, hungry and miserable.
This December 5th, 2011
Today I weigh 154 and have wavered here a few pounds up and down since early October when I decided I was at my goal. I now think Iím ready to go down a few more pounds but I really donít care if, or when, I do because I look smaller than 90% of the people out there now. This is a never before seen event in my life. Kai, [thin and young] can have no idea what this means to me after 45+ years of ALWAYS having to lose weight. I've been fat since I was four years old. I can't believe I don't have to think about it every minute of every day anymore.
I eat amazing food now. Everything is whole as much as possible and fresh as much as possible and organic as much as possible. Itís cooked well and the biggest problem I have is getting enough calories since there is almost no junk in my diet now. This is true while I drink full fat milk and eat whole avocados and no longer eat chemicals, pesticides and refined foods. Taking corn and corn syrup out of my diet alone changed everything.
I stretch all the time now Ė daily, throughout the day Ė and work out 5-6 times a week for an hour or more. This makes me feel like some other person not related to my past. Iím just now trying to find a new sport because walking, swimming and stretching arenít enough anymore. I might actually join some type of group activity Ė this is unbelievable to me to find I even have this thought.
So today was Monday, and we swim on Mondays now. Hereí a bit of what that looks like: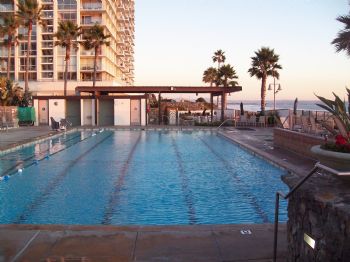 A 25 meter pool, we use to swim laps and do water aerobics for 30 minutes to an hour. I'm swimming over 1000 meters a week now and not stopping at the ends of the pool to catch my breath. I just get to swim and keep swimming and be so ecstatic you would not believe it.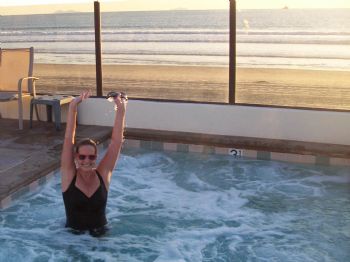 A hot tub with The View of The Century behind me:
I actually donít hate how I look in this photo. There seems to be a waist on that body. This is a miracle in itself. We relax there and warm up [because it's cold in San Diego] and watch the sun set down into the Pacific Ocean twice a week now.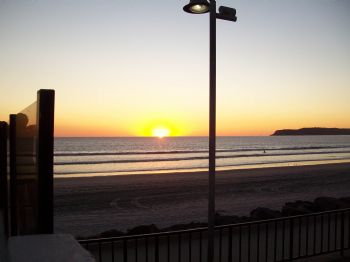 What luck, what a perfect time to be there.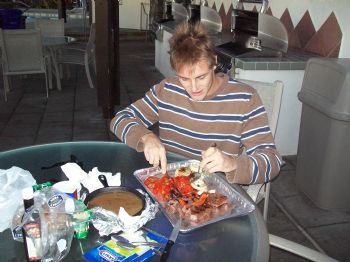 Barbecues are behind Kai that we can use to grill on and eat yummy food after we swim. This is grilled steak, onions, tomatoes and peppers.
On the outside, I look like a normal, non-obese, happy person [in a size 12 bathing suit!]!
What you donít see on the inside is the incredible change to my health, my attitude and my hopes for the future. Both my Cardiologist and my Rheumatologist consider me in remission now - as of this summer's visits. My heart problem is genetic and the symptoms have disappeared off the Echo Scan. My Rheumatoid Arthritis pain is down around 0-3 on the pain scale instead to 7-10 where it's been since the year 2000.
I always say that I can never repay Kai or thank him enough for what heís done for me. After a year of working together this is as true today as when I first said it after just days of working together last December. The results were so immediate and stunning, and have continued to be so for the whole year that I can't really get a grip on it. I lost about two pounds a week for 40 weeks and then have stayed the same since.
I wrote a blog after six months that gives a lot of the details about what we do, and you can read it here:
www.sparkpeople.com/mypa
ge_public_journal_individu
al.asp?blog_id=4277782
Looking back I would say the reasons for the success are constant vigilance, curiosity and creativity on Kai's part and excellent motivation in the face of great results on my part.
Iíve been asked so many times this year to tell what my secret is. How have I really lost all this weight? One person asked me sincerely, "What did you do - stop eating?" I thought I should answer with: "Well, yes it's true. I have not eaten for one whole year, and you should stop too."
Itís obvious to me that the secret to my success in 2011 is Kai. If I could have lost weight and become healthy before I started working with him, I would have. He has changed everything about my health, exercise and food and done it with patience, kindness and a constant smile on his face.
This, however, is his ďI know youíre not going to eat that [name the junk food]" look.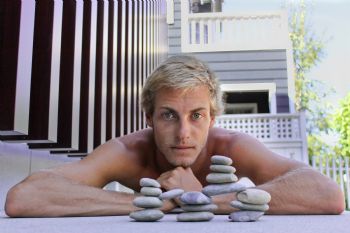 This look can also be used for "Of course you can do push ups!"
Iíve seen this look many, many times this year, and expect and hope to see it again in the year to come. Lucky, lucky me.
And let's take a moment to remember where I started: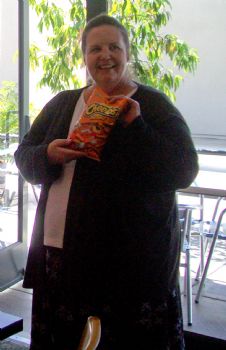 Yes, lucky, lucky me.
PS: I was wearing a bathing suit and getting in the pool looking like this last photo when I took arthritis swim class at my local pool two years ago. I blogged about how I was able to do that when I was so obese here:
www.sparkpeople.com/mypa
ge_public_journal_individu
al.asp?blog_id=3335388
You should read that blog if you wish you could be swimming now.