I was up well before the crack of dawn this morning to "Run for Chocolate" with 20,000 other people. I left my house at 4:35 am to meet Monica. We got the the race site at 6:05 am for a 7:25 am start. (had no choice but to go early so we wouldn't miss the shuttle bus). The race was delayed and didn't start until 8:30, so we were right by the water in the cold for well over 2 hours! Our fingers and toes were frozen, even in our winter gear and gloves.
No same day packet pickup was inconvenient when many live far from the race and can't get there on a work day prior. The parking situation was ridiculous. They did not check parking passes or bibs and I know many people who parked at the Harbor without passes creating more crowding as no one looked at a thing. I've heard from people who waiting 2 hours for their shuttle bus back...
The planning for such a large race in such a small space with no public transportation was not well thought out. The resulting traffic congestion caused many to miss the race entirely and some to park in VA and walk across the bridge to the race start.
By the time we finally were able to start, it was so crowded and the paths were so narrow that we felt like sardines trying to move. It opened up after the first 1.5 miles and I could freely move, although on an unsafe course.
I am a turtle and Amy and Monica were wayyy ahead of me, but I trudged along, proud to be there and doing my best. Unfortunately the race ended going UP a large hill...
I finished in the same time that I did the Turkey Trot on Thanksgiving. My time would have been a lot better if it wasn't so crowded, but I didn't do it for the time it takes. I did it to be out there, exercising and trying to keep active.
At the end we got hot chocolate and chocolate fondue and then got on the bus to get back to the parking to head home. It felt good to sit down in the heated bus!
All in all I was glad to be there to see Amy again and to run with Monica again and I did enjoy the chocolate at the end but unless a lot of things change, I will never run this race again next year!
Here is me with Amy: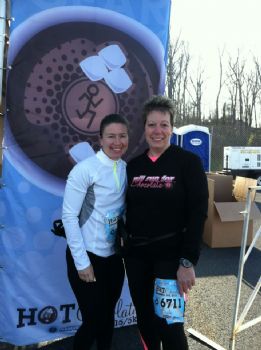 and me with Monica: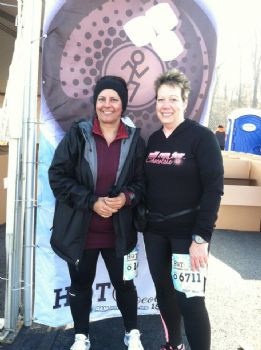 Thank you ladies for your encouragement and for huddling with me to keep us warm. We will have to plan another race in warmer temps :-)