Tracking My Progress-November
Thursday, December 01, 2011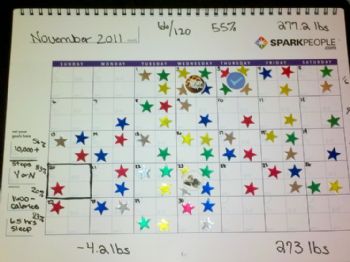 So after calculating how well I did or didn't do for November, I realized I really didn't do very well in November. Overall, I only lost 4.2 lbs for the entire month. That is not pretty and I am unhappy with myself but a loss is a loss. I am still less at the end of the month then I was at the beginning so that is progress. Overall, I got a 55% for the month of November which puts me back to where I was in August. I dropped from 77% in October to 55%. Ouch!
My first goal was 10,000 steps every day. I reached that goal 56% of the time. Not too bad, but I know I can do better. Second goal was whether or not I exercised each day whether it was for 10 minutes or an hour didn't, just exercise in any form and I reached that goal 53% of the month. Third goal was to eat less then 1600 calories a day even though my calorie range per SP begins at like 1605. Anyway, I met that goal only 20%. And my fourth goal was to be in bed with enough time to get 6.5 hours of sleep. So pretty much if I had to work the next day, I had to be in bed by 1am. I met that goal 83% for the month. Granted, that is not exactly right because I took 4 days off of work this month and also on weekends, I don't have to get up early, so it's kind of cheating.
I have tweaked my goals a little bit for the month of December. My goals for steps is the same. My goal for exercise is the same. Even my sleep goal is the same However my calorie goal is different. I couldn't decide if I wanted to make the goal less then 1800 calories or less then 1700 calories. Mind you, my calorie range is 1600-1950. After thinking about it a little bit, I figured I should give myself a good range considering I am now working with a personal trainer and he wants me to go to the gym a total of 4 times a week and I still plan to walk on the nights I do not go to the gym and also do the strength training exercises I am taught in my training sessions on days I am not seeing my PT. Because of all the exercises I am suppose to be doing and I plan to do, I do need more calories to sustain it all. So my goal is to eat below 1800 calories.
I end November at 273lbs. My goal, which I know it pushing it, is to be under 260 by the new year. If I don't make it, that is ok, but I am going to try. As long as I have a goal to work towards.