Date: Saturday, October 12, 2011
Race: 7th World's Highest Hill 5-Mile Race
2011 Race Number: 45
Total Races: 51
Location: Poteau, OK
Distance from home: 184.84 mi. (297.46 km)
Weather: 49°F (9°C); Windy
Time: 9 A.M.
Beneficiary: LeFlore County Special Olympics
In preparation for the Spa 10k, I wanted to try something different. I heard about the race last year and would have done it then, but I had not done any training on hills at that time. Now, that I think about it, I probably would have done better then as opposed to now. Fresh legs yield great results. I headed up to OOOOOOOOOOOOOOOOOOOOKLAHOMA!
The wind was blowing and I knew this would be a nuisance the entire time. I don't have to race up this "hill." I just want to let my legs know what they are in for next week. We all gathered at the start line and the race director, Tom Brennan, gave the usual talk. He is quite the athlete in his own right.
I decided to wear some arm warmers for the first time. It being the Saturday after Veteran's Day, I found it fitting to be in camo. Not like I was going into battle. Well, I was going to be battling "Oklahoma's Ultimate Challenge."
It's the World's Highest Hill because Cavanal Hill is only 1,999 ft. (609 m). A mountain is 2,000 ft. (610 m). Does it make it easier that we are running up a hill and not a mountain? I think not! Though not afraid of the ascent, I know it won't be easy. To key is to keep moving. If I fall, I will crawl. I'll eventually get to the top...or roll back down.
We started on our way and it wasn't too bad at first. Of course there was a slight incline before a very steep incline. Uh-oh! I told myself to take it a mile at a time. No, how about I take it a half-mile at a time.
This is only easy for right now!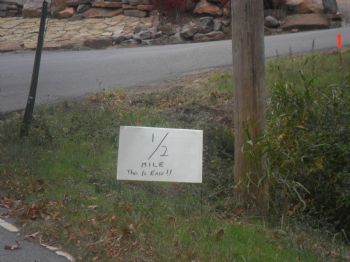 Look at the fall foliage of Oklahoma. This was not too far past the half-mile marker.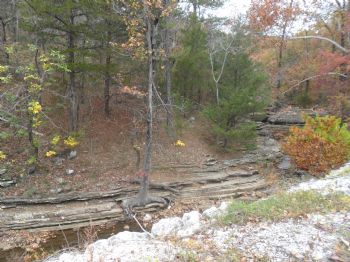 At this point, I'm talking to a few people around me and hearing their stories. This is one of the best parts of running for me. I enjoy hearing about the many experiences. Listening to the stories can help you forget you're running, too. I guess in the midst of that I forgot about the Mile 1 marker. *shrugs* I'm sure it was there. The next half-mile isn't too bad and we make break to the left and I see a sign up ahead.
Uh-oh!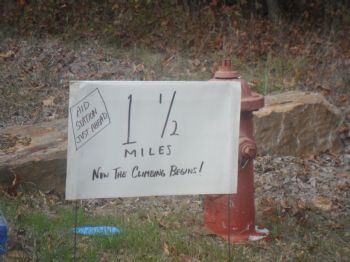 There was indeed truth to the previous statement. Like any other race that involves running up a "hill." One foot in front of the other. YOU GOT THIS!
I needed to see this
I do as it says and keep moving. One thing I have learned about this entire IT band fiasco is that my IT band doesn't like inclines or declines. Let's try to stretch it out as I walk. Oh, these switchbacks are not going to help. Note to the wind..."I DO NOT LIKE YOU RIGHT NOW!"
Half way! Woohoo!
Using the run/walk approach to keep some type of momentum. This is a nice climb. Maybe I will get lucky and be rewarded with a nice downhill. I know it will not feel good on my quads or my IT band, but it will be better than this.
Look at what we have here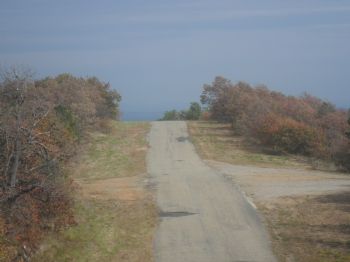 Down the hill and back up! Maybe I should roll. With the way the wind is abusing me it may knock me down. Really winds up to 35 mph? C'mon! At least this is not like other road races. The higher we go up the better the view. I'm trying to enjoy it!
The sign is not liking the wind either.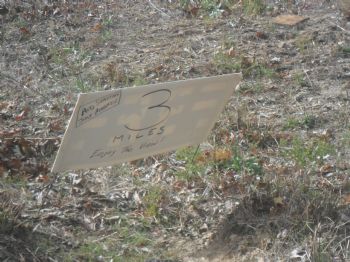 Not too far up ahead there is an aid station and I stop. Can't stop for too long. I may not want to start again. From the looks of it, there is no place to go, but up! Remember, half-mile at a time. The person that put up the signs obviously has done this race. Their thoughts are close to mine at each marker.
Exactly what I'm thinking!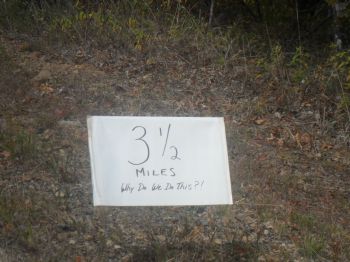 More switchbacks...YAY! I'm sure you've read previous posts about my love for switchbacks. Yes, I'm being sarcastic! Not too much further to go. I start thinking about the Grand Prix races and how next week will be the last one. It has been a tough season, but after surviving last weekend, I know I can make it through it. The conversation I had with myself must have worked because another sign is up ahead.
YES, I AM GOING TO MAKE IT!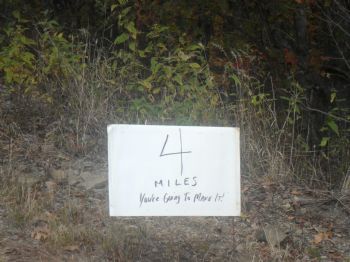 I'm grinning as I know only a mile stands between me and victory. I take a look back and think about how far I have come.
Beautiful isn't it?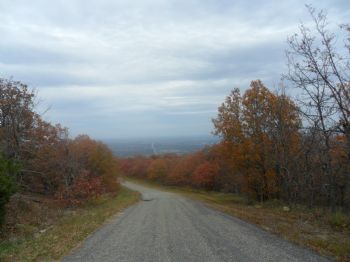 I start to see runners going back down. Guess they haven't had enough. More power to them! If I could train on a "hill" like this, I would be a beast. It's time for me to modify the training. I'm trying to take a positive spin on dealing with my IT band. Maybe it happened, so I would b forced to try something different. Hmmmm...No, it happened because I am human and we need to rest. But what about....? Why must I learn things the hard way?
I'm coming in to the home stretch. No matter how bad my body feels I will always give it all that I have. I leave the hurt, pain, and disappointment on the course!
Victory is MINE! *evil laugh*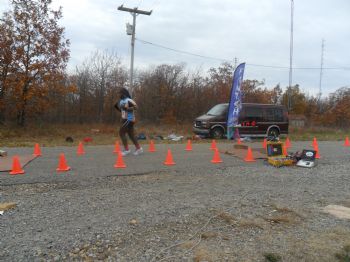 What a challenge that was. The reward along with finishing is seeing the others finish. Oh, let me not forget about that view.
Refueling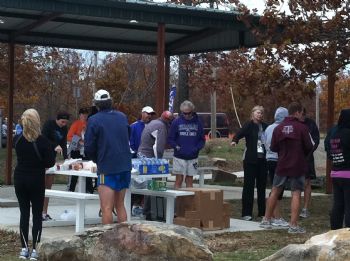 Taking it all in!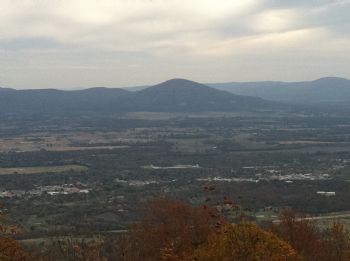 Ahhh....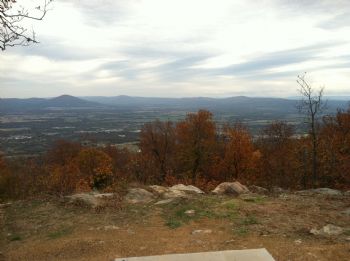 I met some runners on the way down and one guy asked me did I live up there because he had seen me at races. I run all over the place. *smiles*
Time for me to throw up the deuces! BE EASY!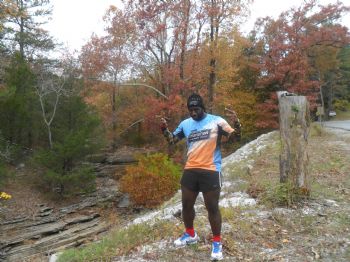 T-shirt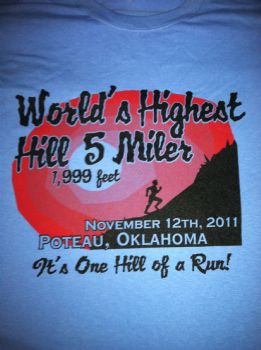 overall place: 65 out of 74
division place: 6 out of 6
gender place: 47 out of 59
time: 1:14:09
pace: 14:50
- Next race -
Spa 10k (Hot Springs, AR)
Saturday, November 19, 2011