A year and a half ago, I was a stay-at-home Mum with four young kids, a husband and a home to take care of. I was also 135lbs overweight (wow, that is such a BIG number!), out of shape, borderline depressed and just feeling all around down on myself. After suffering a miscarriage, I knew something had to change. Then I got the invite to BLC 13 and became a full-time 'Spark'ler.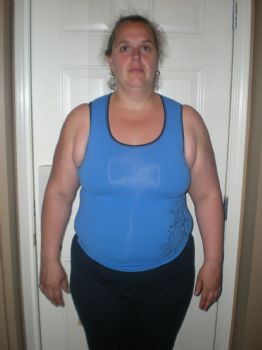 A year ago, I was still a SAHM, just 81lbs lighter. I had spent that summer rollerblading, biking and ellipticalling (uhm...ya know what I mean! lol) my way to a healthier, happier me. I had finally dedicated time to myself. I had inspired my kids, husband and several family members and friends to eat better and exercise more. I was feeling great....at a weight that I hadn't been since elementary school!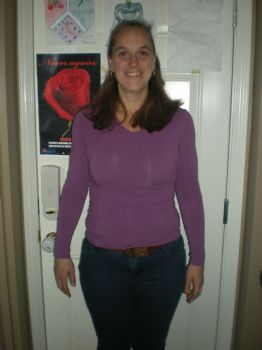 Six months ago, I was 5 months pregnant with my fifth child (see what losing 81lbs can do for you!

).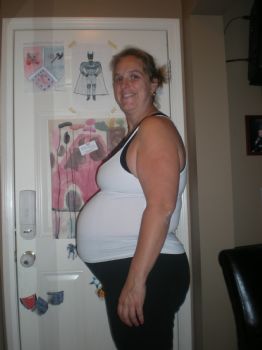 and cringing every time I saw the scale creep back up....pound by little pound....'til I had regained 50lbs of what I had worked so darn hard to lose. I know it was all for the good cause of a healthy baby (which she was!) but it was VERY difficult all the same.
Two months ago, I brought home my beautiful baby girl. A healthy, non-gestational diabetic pregnancy had given me a healthy, beautiful wee girl. Our Gwendolyn was the perfect addition to our family. As I sat on the couch nursing her, I wondered how in the world I was going to prevent myself from regaining all the weight I had lost originally and get myself back into the game.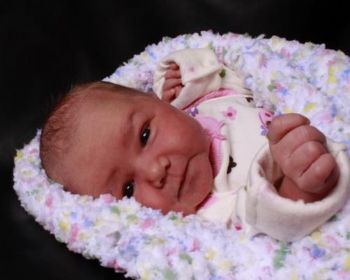 A week ago, I woke up and knew that that was the day. The day I was going to rededicate myself to my pursuit of a healthy lifestyle and weight. I jumped back in with both feet. I set goals for myself; set up my tracking systems; joined a team (

Go White Lightning!!!);
hopped on the elliptical and did a thorough strength training workout. AND the baby slept through the workout and let me do it, to boot! I was sore....but oh-so-satisfied!

And five days ago I was reminded, in a big way, that I was the mother of a young baby. Yes....a two-month-old who decided that she was from Star Trek....my very own Cling-on!

She wouldn't settle with anyone but Mummy for any length of time and had definitely decided that sleep was only going to happen in the carrier or Mummy's arms. (of course, we both came down with a cold the next night, which completely explained THAT!) But, that's okay. My opportunity to cuddle and cradle my babies is oh-so-fleeting, so I enjoyed it.....but how the heck was I going to enjoy my workout, too?
Well, this is how.....
AND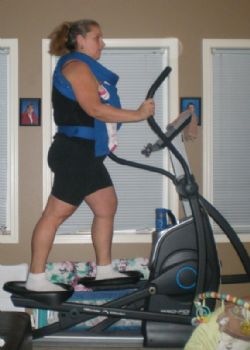 No, your eyes did not deceive you.
Yes, I did my ST workout (15min warm-up and 40min resistance band work) and my cardio (60min elliptical) with Dolly in the carrier. The extra weight was warm, but was no doubt an added benefit, too. It wasn't the easiest workout, but I did it. I even did it without falling on my arse, too!

And, I'm sure, I'll be forced to do it again one day, too....'cuz as much as I need to put myself first, we all know who really does come first. But that's okay. It's all worth it in the end.
Last night, after 3 days of being sick, I got back to my ST and 26min elliptical while Dolly slept on the couch. It IS possible to do it while she's asleep, there's just going to be times where she needs to join me, too.
And today? Well, today I woke up knowing that I'm going to be okay. I CAN do it all again. Starting over is not as hard as I thought it would be. It would be easier to give up.....but I've given up on myself enough over the years. Besides that.....I've never been known to take the easy way out.
So, when you don't feel like doing a workout remember the pictures above......that should keep you laughing through the warm-up, at least!

Here are my 'NEW' before pictures. This is me on Tuesday, November 22, 2011 at 234.8lbs.....35.2lbs down from my original weight.....44.8lbs higher than my lowest weight. Meh.....I'll get there again...and a whole lot lower than that, too!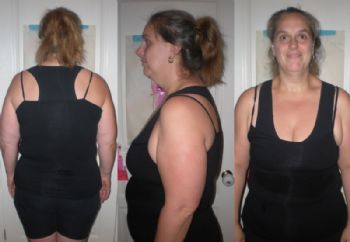 No matter how many times people tell me that I 'don't need to lose any more weight' or that I 'look fine the way that I am' or that I 'don't want to get TOO skinny'. Seriously? Just 'cuz THEY are unhappy with themselves, doesn't mean they get to bring me down with them! That is just fuel for my motivation, baby!
What keeps YOU from working towards or reaching your goals? Make them work for you and you'll get there a whole lot faster!