Saturday, November 26, 2011
I have 4 of the infant hats made so far, the ones I am donating to the hospital. They are fun to make! I made these on a small round knitting loom but I have a couple of crochet patterns I want to try too.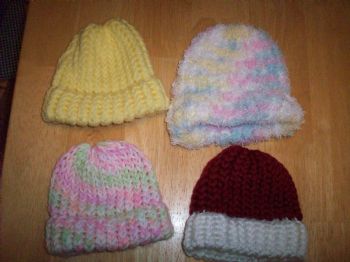 I have a 5th one almost done that I started while watching Gone With the Wind on AMC this morning. Having to take it easy again today; didn't get much sleep last night because of some digestive issues from the chemo side effects, and the sciatica pain is flaring up. I've learned not to push myself too hard when I am feeling sore and tired; I don't want to end up not feeling like going to church in the morning.
I did a short portion of my Peggy Cappy yoga DVD, but my shoulders tired out quickly today; I think that is a result of the bone met in my spine, the one I will am getting radiation on.