Monday, November 21, 2011
Life is crazy busy right now, since I am nearing finals. The ONLY grade for each class is the final exam, so it's really high pressure (and stress). Plus, I am working on a big 30+ page research project in addition to finals prep, so this will be a short blog! :)
I have news. Big news. I can now fit into 2 pair of pants that I have not been able to fit into since the first month of law school! YAHOO! Both are still snug, but wearable. I've only lost about 5 pounds according to the scale, but I have shrank quite a bit. More muscle, less fat? I'll take it!
This is a really bad picture, but this is one of the pants that now fit: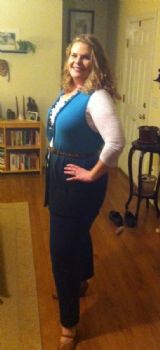 I am still doing personal training, and it's hard but totally amazing. I am so much stronger now than I was just a month ago! I am using 10 lb weights for almost everything now (I started out with 5's), and I can hold the plank for over a minute. I'm so glad I found this gym - I feel amazing!
Happy Thanksgiving to everyone in Sparkland!