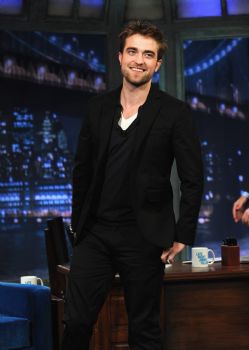 Next week at this time I'll just be getting out of the theater after watching Breaking Dawn. That will be a happy time!

My other contemplation is difficult and burdening my thoughts today. I have an issue with my right quad. So much so that it's waking me up in the middle of the night due to pain.
I was yapping on the phone to a fellow sparker the other day who has his own muscle issues and we both commented on how we were just trying to get through the races we had scheduled till the end of the year, and THEN we would take some time off to heal.
That evening I went out to dinner with a group of people - one who does physical therapy - and I described my issue. Never quite seems to go away for months now. I take a week or so off weights it feels better, I work out, and then I have an issue again. She basically in a kind, gentle soft voice read me the riot act and told me to back out of my next race or risk tearing my muscle.
My next race is Nove 19th - The Hell Run - my first one of this type of race with a 5k interspersed with various obstacles - mud, fire, water, you know stupid stuff. My daughter registered with me as well as my BFF. She hurt her knee playing softball and has been relatively sure that she wouldn't run this race.
I talked to my daughter last night and asked her how she would feel about us not doing the race. She was disappointed and wants me to take her so she can do it anyway. Now how hard would that be for me to stand on the sidelines and let her do it herself?
My brain is conflicted. I have been in recovery mode since May 18 - from my shoulder surgery and I'm so tired of being in pain. The races I do sort of help me celebrate my fitness. I enjoy the crowds, the events themselves, and when i do get to do one with my daughter it's even more special.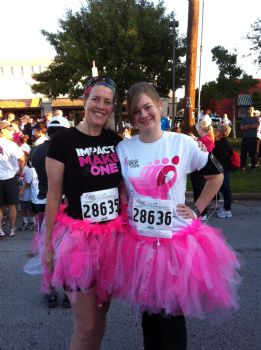 This is a picture from the Komen race we did last month.
Anyway, I don't think I really know how to take time off. I am going to talk to my trainer. I'm supposed to see him on the 17th, and I haven't been able to follow the program that he gave me for my lower body. I'm going to have to push that back and figure out if I just do slow walking on the treadmill and my shoulder therapy exercises and not workout for 4 weeks to see if that heals it.
I'm scheduled for the Turkey Trot and the Jingle Bell run and regardless I'll do those since I can walk and there are no obstacles.
Funny thing is that when I first started on Spark People over two years ago, I used to have to find ways to talk myself into doing races. Now the shoe is on the other foot, and I'm having difficulty talking myself out of it!