Friday, November 11, 2011
This is Mary's creation with the gourd we bought from the Mennonite store. Don't think it will last until Thanksgiving though. We have ALL kinds of crafts planned for the month, and are having our dearest friends and their daughter and her 'serious' boyfriend for Thanksgiving dinner. This was a Martha Stewart idea. BTW, the turkey 'sandwiches' that we made yesterday was a borrowed idea. Not my original creation!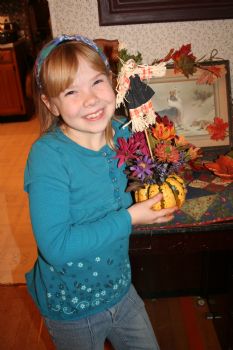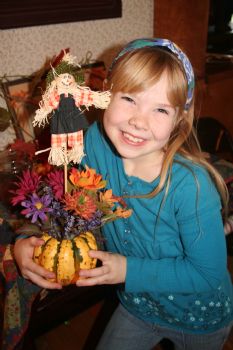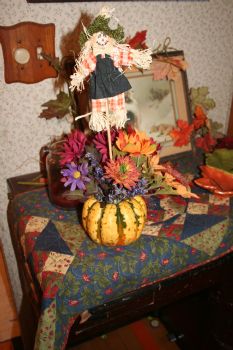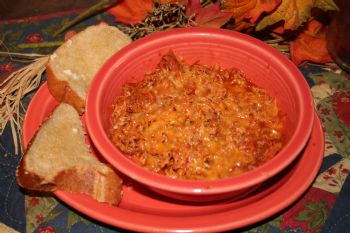 Slow Cooker Salsa Chicken w/2% cojack cheese, 2.1 oz of fresh whole wheat bread out of the oven w/4g of butter [YES, I'm from Wisconsin and I use butter!

] for 370 calories, 31 carbs, 12g fat, and 35g protein! Mmmmmm!

recipes.sparkpeople.com/
recipe-detail.asp?recipe=1
399704
Here is my bread recipe. I weighed the WHOLE clump which was 168 oz. and then all I have to do is measure each piece of bread by oz. and put it in my tracker! SO easy! So a nice thick slice of fresh bread w/ butter cost me 160 calories and 6 grams of fat. SOOOO worth it! BTW, if you've made whole wheat bread before, but didn't use freshly ground wheat berries, then you're in for a REAL treat when you try it! Nothing like it! All the nutrients and OILS that must be refined out in order to give the flours a longer shelf life are STILL in the freshly ground flour. I've been grinding wheat for over 21 years and I highly recommend the investment.
www.pleasanthillgrain.co
m/index.aspx#Nutrimill
Get to go to the 'big city' this afternoon/evening for an extended date with my dh! Woooohooo! Have a WONDERFUL Friday! Love and hugs, Susan