I'm getting a NEW PUPPY!
Monday, November 07, 2011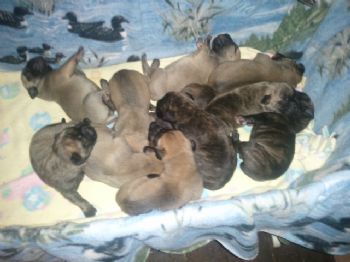 To help me get outta this funk, my husband thought he'd buy me a new puppy for my birthday. He brought me around to meet a few breeders, and I got very discouraged with the horrible money-hungry jerks out there. then out of no where there is this lady, with a pregnant bullmastiff, and the parents are awesome pedigrees, and then we drive out there five days after the babies are born, and she's even more wonderful in person. So now I have to choose what puppy do we want? There are 11 puppies total. Chris is partial to the dark brindle. I love the dark brindle too, but they are harder to show - and I want to get into handling/showing with my daughter. Either way, this will be a very loved pet, and showing is more for us to learn with the dog and see if it's something we can do more of in the future.
So now I need some names.. We have Chester, Klaus (pronounded like cloud with an s instead of d). We both agree we would prefer a male, but never know!
hmm.. so hard to choose just one! we go back in 4-5 weeks to see them again..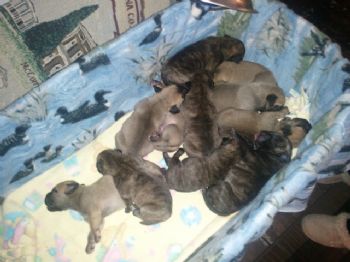 SO CUTE!
Here's our big boy who can't wait to be a big brother