It's been a while since I've been on this site and I wasn't sure if I was coming back, but ultimately I missed the features and the record I have here of myself over the past couple years and wanted to get back to the original reasons this site enriched my life.
A lot has gone on in the past couple months. I got offered one of the dream jobs I didn't think I was fully qualified for - doing reentry and court work for a whole county in my state. I had to get some guts and quit a comfortable, easy job I was working at the time to accept the new one because of conflicting schedules. It was hard for me to quit the other one because I had met three people there who were my partners on shifts who I really connected with and were close in my age in their twenties and thirties and that pained me the most. I'm incredibly lonely in my physical life right now, all my friends are scattered around the U.S. and I was taking a job that I knew would give me a limited amount of coworkers and all of them are in their late thirties/forties and beyond and have double the years of experience as me. In a lot of ways that's great, but in other ways it's really isolating. It was really hard for me to make the choice to take the new opportunity for that reason, despite every other good reason pointing to taking it. Ultimately I did though, which I want to give myself a little credit for.
Another thing that happened is that i moved from the state capital to a small ski town an hour away. I found out my landlord had been going into my apartment without permission or notice while I was at work. One night I came home late and noticed a window was shut that I had left open and things moved around. When I called her, nervous, she said it was her and that she had taken the liberty to walk my dog. She had tons of excuses and justifications, but I was horrified. I have never met this woman in person, still to this day and she had never met my dog before introducing herself without my presence that day. I was livid over the idea that my dog could've bitten her out of fear or worse, gotten loose on the walk or hit by a car. I felt violated especially because the woman never even bothered to call after the fact either, to let me know she did that. It was not okay for a lot of reasons which most of you would understand so I dont need to elaborate. I told her I was moving out and getting my full deposit back. In Vermont, if a landlord does this, they can be cited by the police for unlawful trespass and sued. It took me all of 6 days to pack up my apartment on my own, move it out into a uhaul, find a new apartment and sign a lease and move my stuff over two nights between shifts. The landlord fought with me at the end to try and take part of my deposit, but I know all the language and the tenants rights in VT so ultimately I got my deposit back. I feel proud of myself for sticking up for my rights and getting out of there because it no longer felt comfortable to me and I didn't need the additional stress of wondering what could be happening to my dog while I was at work all day. I feel like a good thing that came out of this is that it was just a salient reminder of my own self determination and agency. I feel ridiculously lucky that I had a little amount of saved up resources to be able to move and sign a new lease and put another deposit out there while fighting for the original one back without having to stay trapped there.
Beyond that, I feel energized living in a ski town. My town is technically a village of a town because it's so small, but it's perfect. I live at the base of the highest mountain in VT and 6 miles exact from the ski resort. Because of my geography and the fortune that has come out of living here, I feel indescribably motivated to try cross country skiing this winter; the little research i have done says it's one of the hardest sports in the world and that excites me in a way. I want to take advantage of what nature has to offer me and for the first time in my adult life I am actually looking forward to it snowing. I went hiking for the first time a couple weeks ago and discovered this secluded mountaintop pond that looked like glass reflecting the clouds and surrounding mountain peaks. it was unbelievable and it's my motivation reminder to hang on to for next summer. When I left my other job, the three coworkers surprised me with a gift certificate to this outdoor gear exchange place we have since they know I want to start skiing this winter. It was so unexpected and nice and I felt speechless. It's been a while since I have felt that kind of thoughtfulness from others directed specifically at me; I just didn't expect it at all. Later when I expressed to my closest partner there how surprised I was and how nice it was, he told me I deserved every ounce of their appreciation. I don't think people fully realize what an impact brief words like that could mean. Reminds me of the power of intention.
I'm kind of in static right now - hovering around the weight I was two months ago when I was gearing up to get back in the game. While it's nice I haven't gained, I haven't lost either. I realized that a big part of my effectiveness before was having a gym to go to because it gave me a purpose. From this summer I have cycling I have continued here and there but not consistently. I'm looking into getting back with a gym at least to have the default to go there when I need to and because I need to start getting going with swimming if I want to do that half-iron next summer I'm signed up for. As soon as I get my skis and it snows I'm going to get a season pass for the alpine trails up the road too.
Staying active I think will distract me ultimately from my loneliness and depression that has only seemed to get worse in the time that I have been lazy about exercising. I have distanced myself from some friends and while I still think it was a right thing to do, I dont think I necessarily did it in a way that really reflects the kind of person I want to be (and am in other ways.) I'm trying to do this thing now where I have accountability AND see myself as a whole person who isn't completely defined by the mistakes I have made along the way. I have offered a few apologies that sort of had no strings on them. I don't know that I want to reconnect but I want to do the right thing and honor other people's integrity, which I think ultimately helps all of us to move on better. I hope. I'm trying to remember that everyone always has good intentions no matter what it looks like in the moment and that it's okay to be multiple things at one time - sorry and okay with the way things are, happy and sad, hopeful and at peace. Multiplicity is a challenging thing. I feel conflicted because I find value in the isolation I have self-imposed in the wake of these severed relationships, but I am lonely and blue in other ways and It's a vicious cycle that only seems to get worse the longer I remain relatively inactive. I am deeply lonely these days and craving physical connection with other people but it just doesn't seem likely or possible or even right to do right now. In other times in my life in the past couple years I focused deeply into going to the gym and running and just the time I could spend with myself and it helped me figure things out and get closer to who I wanted to be so I'm going to go back to that - sort of like a winter hibernation in ways. I will get a small break though in a couple weeks - I'm going to the Philadelphia Marathon to see three of the guys I was with this summer run it in like two weeks here and then were heading down to Chapel Hill for Thanksgiving as a reunion of some of the B&B crew from this summer. Looking forward to that very much. And I'm sure I will have some pictures to update then.
I have goals and I have a vision of who I want to be (who I am deep down that is trying to come out into the forefront) and I will write more about that later, but for now, the last big steps towards my thesis that I am fighting to win.
I have missed so many of you and am putting positive energy out there for you too.
............................
...
"We want the spring to come and the winter to pass. We want
whoever to call or not call, a letter, a kiss — we want more and more and then more of it.
But there are moments, walking, when I catch a glimpse of myself in the window glass,
say, the window of the corner video store, and I'm gripped by a cherishing so deep
for my own blowing hair, chapped face, and unbuttoned coat that I'm speechless:
I am living. I remember you." - Maria Howe, from What the Living Do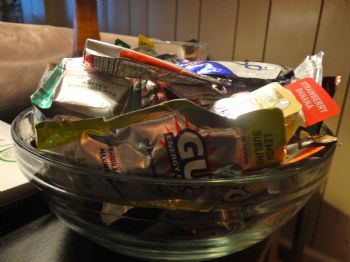 a halloween joke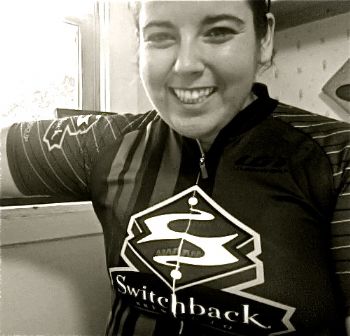 october 2011. that's my favorite local brewery that i got one of their cycling jerseys.