Friday, November 04, 2011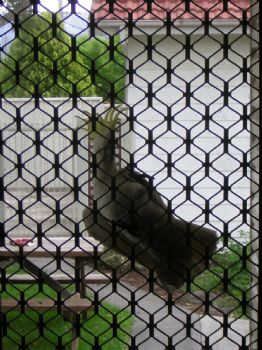 I just love this bird. He's a solitary one (which is rare for cockatoos), and he's taken in the last couple days to coming to our back door and rattling it. He flies over and clings on and waits til he gets my attention, then he perches on the lowest branch of a tree so I can feed him multigrain bread. He's very patient - he'll fly and rattle repeatedly til I notice. Then he puts up his yellow crest and peers in and it makes me laugh.
So I head outside, bread in hand, and stand under the tree saying sweet nothings while he nibbles. The things we do for a male!