my fitness level had improved THAT much!
Since started Turbo Fire last year in combination with my half marathon training and completion I didn't stop to think about how much my fitness level had improved. Until today...
Months ago I lent my entire Tae Bo collection to my friend and bridesmaid as she wanted to get in shape for the wedding. This was a huge box that included all the Bootcamp SETS, The AMPED sets, - every Tae Bo video basically. Ten years worth of me collecting Tae Bo DVDs. Had to be at least 40 workouts.
If you remember from my blogs in the summer my bridesmaid's house burnt down. They tried to save the DVDs but I was just told last week they can't. I nearly chocked when my friend said "so this was what $100 worth of DVDs?"
I am thinking - are you kidding me? I told her more like $300 even thought I feel I probably spent a lot more. But I didn't want her to feel any worse than she already did.
So I have been a little upset that everything is gone. I looked online and a lot of the sets I had you can't buy anymore.
Well...this week I am house sitting for my parents. I was looking through their DVD collection when I spotted one of my favorite Tae Bo workout DVD! The Get Ripped Advanced 1 and Advanced 2!!!!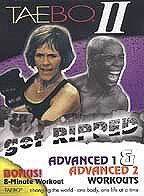 This used to be my go to 'extra tough' workout. I remember it took me a long time to be able to complete the full 57 minutes that each workout was. In fact, I often stopped at the 30 minute mark.
Well because I was just ecstatic about finding that DVD I did the Advanced 1 this morning.
Can I tell you that I didn't find it hard at all. In fact at one point I was thinking -I wonder how I can make this move harder?
I still got a decent workout and sweated but...I have to tell you. After Turbo Fire and the HIIT workouts this workout was nothing for me to complete.
It's funny...what were my tough workouts are no longer my tough workouts anymore! hahaha
Just for fun...tomorrow I am going to do the Turbo Jam Cardio Party 1! I want to see how 'easy' that one is now!!!