I am an avid cook, perhaps even an aspiring chef. So when I moved into my home six years ago, my boyfriend was kind enough to one day surprise me by building me a pantry in my kitchen so I could keep my kitchen stocked and at the ready for whatever inspiration may hit.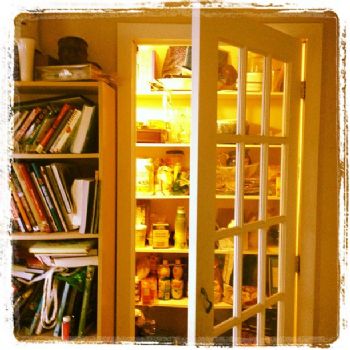 (please forgive my incredibly messy cookbook shelf!)
I am a farmer's market shopper and buy many of my bulk/dry items at Costco so I very rarely stock up at the Grocery Store. In fact, I make it there usually only once every 4-6 months which means that I have not been back since I began my SparkPeople journey. This week, I realized my pantry was missing a lot of staples that I use so I decided yesterday to make a list from my regular favourites as well as from consulting my favourite low-fat-cookbook-girls and restock. (The girls: Ontario born and fabulous fun food mavens - Janet & Greta Podleski
www.chapters.indigo.ca/b
ooks/Looneyspoons-Collecti
on-Janet-Gretas-Greatest-J
anet-Podleski-Greta-Podles
ki/9780968063156-item.html
?ikwid=looneyspoons&ikwsec=Home
- sorry Chef Meg, I haven't bought the SparkPeople cookbook yet but will hopefully be checking it out soon!)
Oh Lord. The grocery store.
How many brands of brown beans can there be?? And what a phenomenal difference in nutritional information! My staple is usually the no-name maple brown beans. They have less calories and less sodium than the other "name brands" but upon closer inspection their list of ingredients includes such wonderful generic items as "spices", "artificial flavour" and "caramel colour". Heinz brand (which I ended up purchasing) is definitely higher in numbers on the nutritional label but offers specific spices like "mustard flour" and "onion powder" and contain "natural flavours".
I personally hate artificial anything so would tend to opt for a higher calorie option instead of consuming "non-natural foods", but how many people take the time to look or even read past the calorie count? There is no longer a quick trip to the grocery store for any of us who are trying to solve the puzzle of making the right choices...
So what do you look at when you choose your food? Do you always choose the lower calorie/sodium option? Or do you choose the foods with the most all-natural ingredients? Does lower calories actually equal healthier food?
And in case you're curious, here are the findings on the brown beans:
No Name Beans Made with Real Maple Syrup
per 1/2 cup serving
Total Calories: 145
Total Fat 0.5g
Saturated Fat 0.1g
Sodium 365mg
Total Carbohydrate 28.5g
Dietary Fiber 5.5g
Sugars 10.5g
Protein 6.5g
Ingredients: White Beans, Water, Sugar, Dextrose, Maple Syrup, Modified Corn Starch, Salt, Spices, Artificial Flavour, Caramel Colour
______
Heinz Maple Style Beans with Pure Quebec Maple Syrup
per 1/2 cup serving
Total Calories: 160
Total Fat 0.5g
Saturated Fat 0g
Sodium 420mg
Total Carbohydrate 31g
Dietary Fiber 6g
Sugars 12g
Protein 8g
Ingredients: White Beans, Water, Sugar, Dextrose, Maple Syrup, Modified Corn Starch, Salt, Natural Flavours, Mustard Flour, Onion Powder