I was asked by my MS team trainer to volunteer at the registration table for the Freaky 5K/ Terrifying 10K for the MS Society.
"Not a problem", I told her, I was already signed up for the 10K.
Flash forward to October 15th, my second Half Marathon. Around mile 10, I could REALLY feel the outside of my left foot. Ortho visits, xray, & MRI later, it either a stress fracture or a tendon problem. You never really know for sure until an xray weeks later shows a healing line or not.
I was out of my boot, feeling good & was given the OK to try to jog, four days before the 5K/10K. I was thrilled!
That feeling was quickly dashed when I jogged a few minutes on the treadmill and was back into my boot with bad pain for 2 days.
So, so much for the 10K. I was going to walk the 5K after explaining to the Pgh Marathon peeps about my injury.
I lightly did a 3 mile Leslie Sansone walking video 2 days before to make sure I could do it.
It's now the morning of the race, Saturday, October 29th. It was really snowing. Surreal ride down to the race with all the fall leaves & snow on the ground.
At least the registration table was inside! YAY! Most of the charities were outside.
Here's my running partner from the Pittsburgh Marathon in May, Sandy and her husband, Russ. I love these guys!
Some of the great costumes...
Running with Scissors! They all had huge scissors on their backs. lol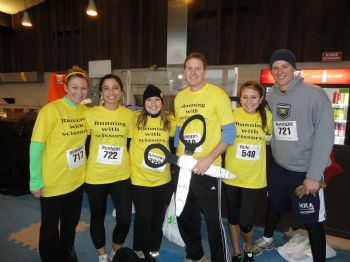 Ghostbusters with Baby Slimer!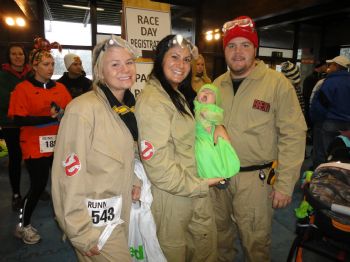 Mario Kart!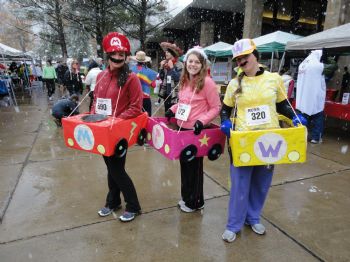 Tetris!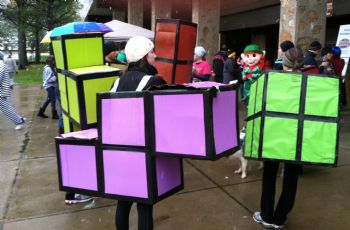 Fortunately, we could hang inside until the start of the race...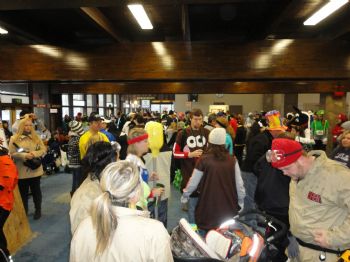 I COULD NOT BELIEVE how many people late registered for the race with all the snow! But now it was time to go out to the start line....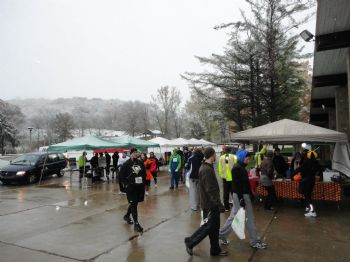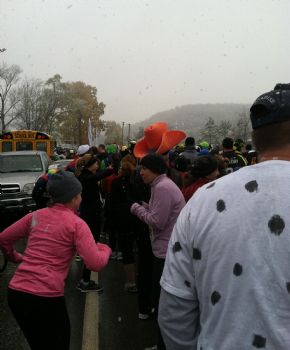 We couln't figure out why the race wasn't starting. It was COLD standing there!
(I read today that it was because a tree was found down on the 10K course and had to be removed.)
Here's me with lots of layers, but cold by now!
A SparkFriend of mine, APIRLRAIN888, who was running with her daughter, told me that you were able to walk the 5K. The longer I stood there, the more I was debating on walking the 10K instead of the 5K. I felt like such a woose.
I found this pic of APIRLRAIN888 and her daughter today on the Pgh Marathon website. She and her daughter are the adorable mummies at the right front!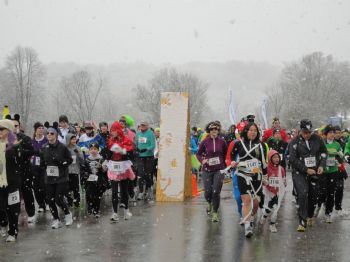 I had to decide right after the start line...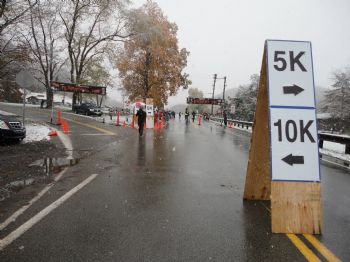 I just kept hearing in my head all my SparkRunners, my Hubs and my trainer, telling me not to push it. It was NOT worth it in the long run.
So, 5K it was...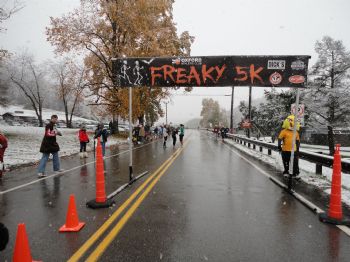 Talk about embarrassing when the limo ran past me!
I was a Good Girl. Never even jogged. (I didn't even wear my running shoes, so I wouldn't be tempted.)
Finished with a 14:10 minute split. I starting laughing at myself on the way home when I realized that my first 5K that I "ran", was actually a little slower! LOL
I did come home and had to ice my foot and put it up for a good part of the day, but it was good to go the next day. Good thing, I was meeting some SparkPeeps small Just a Short Run reunion for lunch and didn't want anyone to yell at me!
Jimmy (Jen's son), Jen, Me, Bobby, Anne & Frances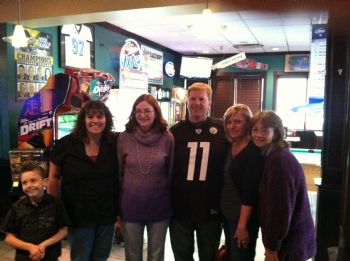 Don't want to be hurt for March 2012's Just a Short Run! And I even skipped Halloween Zumba tonight:D