Thursday, October 27, 2011

I love my favorite TV shows and admit that I spend way too much time watching them most evenings. I used to do my strength exercises during the shows but have been using several DVDs to get in my strength minutes lately. So - I finally came up with a solution that works for me and helps to alleviate my feelings of laziness and sloth. It gives me extra exercise time along with the strength and cardio that I do (or should do!) daily.

I purchased a large plastic jar of pretzel sticks, took it to school when I volunteered a few weeks ago, and put it in the teachers' lounge. I taped a note to it asking that the jar be returned but to enjoy the pretzels. I know from personal experience that any food left in a teachers' lounge will be eaten (been there, done that!) and it was a better alternative than eating them all myself (and believe me, I thought about doing that).



I brought the jar home earlier this week and decorated it with some sparkly decals I had. I then printed out about 20 strength exercises, making sure that some focused on lower body, some on upper body, and some on core strength. I then folded them and dropped them into the jar.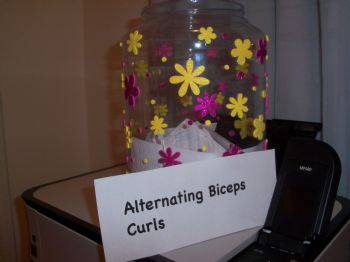 I watched Gray's Anatomy and Private Practice tonight - 2 hours of TV time - BUT I reached into the jar and pulled out an exercise as every commercial began. I did sets of that exercise until the commercial ended. Wow - I didn't realize how long commercials are!