Whew, it's been quite the weekend. I've been busy and I still don't really have time to get this all typed out, but if I don't start now I will never get it posted. Without belaboring the intro, here is my Ragnar Relay race report.
Date: 10/21/11 - 10/22/11
Location: Las Vegas, NV area
Race Coordinator: Ragnar
Event: Ragnar Relay Las Vegas 2011
Start Time: 8:00am
Total Distance: 188 miles
My Distance(s): Leg #3: 5.3 miles, Leg #15: 5.4 miles, Leg #27: 5.8 miles
Weather: 60-90°F and dry (very low humidity)
Wow, so... where do I even begin!
If you don't know what a Ragnar Relay is... it's a scenic, outdoor relay race that covers 200-ish miles (mileage varies per race). Teams vary from 6-man "Ultra" teams, to 12-man regular teams. Teams can be co-ed, or not. Races are broken down into 3 groups of 12 legs for a total of 36 legs. Each person runs one leg in each of the 3 groups - for 6-man "ultra" teams, each person runs two legs in each group. Every runner for every team provides their estimated 10k mile pace and then Ragnar organizes everyone into waves that start every 30 minutes. The slowest teams start first and the fastest start last, beginning at 6am and lasting well into the afternoon on the first day of running. For this year's race, there were 475+ teams.
That's the basics. The rest is a jumble of logistics. For more details on what goes on at a Ragnar Relay check out
www.ragnarrelay.com
.
So... Last year my SIL started to get a team together, but it died pretty quickly because it was last minute and our possible runners all began dropping out before we could get any momentum, so the whole idea died pretty quickly and I forgot all about it... until the end of August of this year when I had finished all my scheduled races.
I don't know what it was, but something reminded me about the race and I went and checked out the Ragnar site to see if the Las Vegas relay had already been run or not. I found that it hadn't and just innocently signed up as a "runner looking for a team," just casting my line out to see if anyone would bite, but not really expecting a response.
Maybe a week later I received an e-mail from a team looking for runners. We e-mailed back and forth for a couple weeks until I was comfortable (and had broken the news and gotten the okay from my wife) and finally decided to go ahead and sign up.
Once I signed up, it was a whirlwind of activity. The team was trying to sign up runners to their remaining slots before the end of "new runner registration" and trying to get all the details worked out. Then, in September, the 6 of us that were local all decided to meet for dinner so we could get to know each other and get some details worked out. The 6 of use were all running in our first Ragnar, but 5 of our runners from out of town had all run in a few and were experienced Ragnar runners.
After that it was just a countdown to race day and deciding whether to rent minivans or 15-passenger vans, who would bring water, and getting all the other details sorted out.
The week before race day I slowly began laying out all the clothes I would need for the race. I put out 3 sets of running clothes, plus a jackets, sweat pants, gloves, headbands, extra pairs of socks, extra pair of shoes, flip flops, etc. I wanted to be able to wear clean, dry clothes for each of my 3 legs.
On the day before race day, I bought some various snacks (granola bars, Marathon energy bars, and some Powerade) and 3 cases of water bottles and then went down with Ryan (one of my teammates) to pick up one of our 15-passenger vans.
That evening, most of us met for dinner at Antonio's restaurant: Sienna Italian Authentic Trattoria (how awesome is it to have a teammate that owns an Italian restaurant!). We carbo-loaded and discussed our last minute plans on where to meet the next morning so we could all get to the van and to the race starting line in time for the pre-race safety briefing.
Two of our teammates coming down from Utah had car trouble on the way into town and weren't able to make it dinner, but they did make it in for the race.
I got home from dinner on Thursday night just after my daughter went to bed which was very disappointing because since I would be getting up super early the next morning, I wouldn't be able to see her before I left for the race.
I got everything all packed up and ready to go and was in bed by 9:30pm.
I woke up a 3:15am on Race Day - Friday morning. I packed my stuff in truck, kissed my wife goodbye, and headed off. I bought ice for my cooler for our water bottles, and then picked up Devin (one of our Utah out-of-towners) at 4am. Our team was split into two vans - one van for the first 6 legs, the other for the next 6. We would then switch off after every 6 legs. Devin and I we met the everyone else from the first van at Ryan's house in the south part of town at 4:45am. (since the runners from the other van didn't need to start until leg 7, they didn't need to meet until 9am). We packed up van #1 and headed out at 5:15am for start line at Echo Bay on Lake Mead - an hour and a half drive (approx).
We chatted excitedly as we drove, trying to rest, but were too amped to sleep. I hadn't met most of our team until the night before our race, and hadn't met Devin until that morning, but everyone was awesome and we all got along fantastically. After an hour or two, it was as if we were all long-time friends.
As we neared Echo Bay we saw our first runners on the course - the ones that starts at 6:00am. Before we knew it, we were in the parking lot and heading to check-in with all our safety gear and then to the safety briefing and then to pick up our packet with all our bibs and our slap-bracelet baton.
Then... we were ready to go. We stood around behind the start line, chatting and waiting for our 8am start.
When the announcer asked for all 8am teams to line up, it was electric and everyone was buzzing. Our first runner, Greg (60+ years old and running in his 8th Ragnar) was all set to go and took his spot under the Ragnar Start Arch. The announcer read off the names of all the teams starting in our wave. A lot of them had hilarious names like: "Curry in a Hurry" and "My Third Leg is Harder Than Yours" and "Sofa King Fast" and "Saints & Sinners (Run, Repent, Repeat)" and "Run and tell that....homeboy!" and "Morning Wood, We Run Hard" and "That's what you get for waking up in Vegas," etc, etc. And then, before we knew it, it was time to start!
--to be continued--
Course Map (courtesy ragnarrelay.com):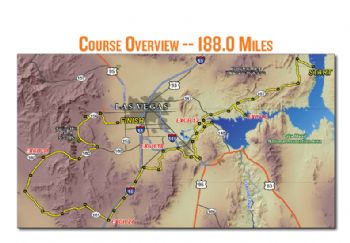 Van#1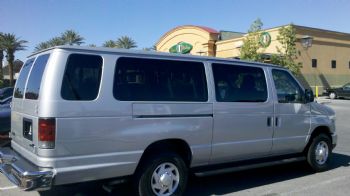 The Start Line
Our slap-bracelet "baton"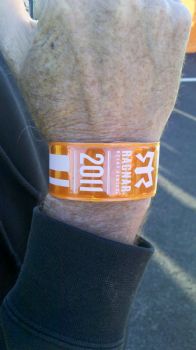 Waiting behind the Start Line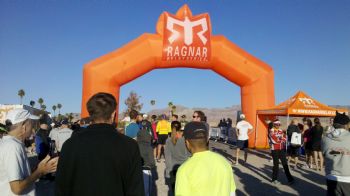 Our team being announced (Greg holding his arms up)