I'm ready to party! I just have to get through 2 exams today before I can take a breather and prepare for our annual Halloween Party! Which is both exciting...and irritating.
You see...my roommate, Bess, has had an annual Halloween party for the last 3 years. Since Hillary and I moved in with her over a year ago, it became OUR annual Halloween party. Last year was lots of fun, except Bess had invited a casual party friend...who ended up bringing like 7 people we didn't know. And some of those people we didn't know, tried to invite their other friends. Yeah. I wasn't too happy about that one. Especially when come morning, I found out that someone had walked off with my full bottle of Jack Daniels.

So this year, we decided to make it only close friends. It's this Saturday. What's unfortunate...is that now our roommate Bess isn't coming....to HER party.

We planned the party based on when she could come, but apparently people from grad school are going to a comedy club and she "feels like she needs to be there". Which is complete and total bull. She's not coming because she's dating this guy who I'm sure doesn't want to come for some reason or another. Any way he can get out of spending any time with her friends. It really ticks Hillary and I off. But whatever...
Sooooo now...I guess it's Hillary and I's party! And we are going to have a GREAT time, Bess be damned! lol
I'm really excited about my costume this year! I bought an Indian sari, like this one below, only green and blue (They sold out of mine so I can't show the exact image of mine).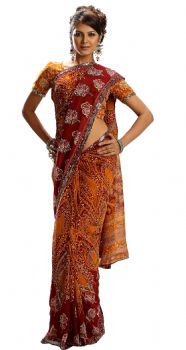 And I have a bindi to wear (the gem between the eyes) and some bangles, earrings, a huge gold ring, and even some temporary henna tattoos to put on my hands! I also painted my nails a glittery gold color! So fun!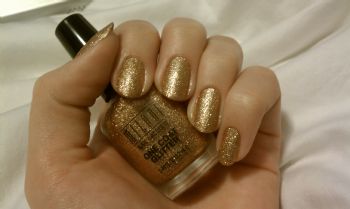 This is probably the best costume I've ever come up with and I'm soooo excited about it!
My roommate Hillary and her fiancÚ are going as the couple from Greece. Their outfits are from the end of the movie when Sandy has the curly hair, tight black pants, and red shoes! He'll be slicking back his hair, wearing a tight black shirt, and a leather jacket!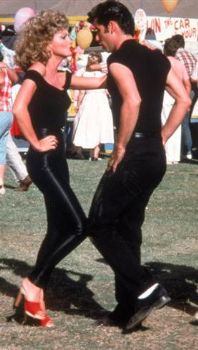 So cool!
We aren't going to let the roommate drama get us down! Saturday night can't get here soon enough!!!