I have been hoping to get time to blog for a very long time. Unfortunately, work is super busy and I am still going to school part time to earn my marketing management degree.
I had gone to college for Marketing and graduated with a certificate in Marketing. My current company would like me to have my BCOMM Marketing Management Degree. The university I picked took my 3 years of college and credited me for the first 2 years worth of courses in the degree program. So I only need to make up year 3 and year 4 courses. This will take me awhile as I am only able to take one course each semester with working full time. In the summer I hope to take 2.
That's just a little bit of an explanation as to why I haven't been able to blog.
I am finally feeling 100% after fighting sinus infection and bronchitis. My workouts are all back on track and at the intensity I like!
I have started to add the weighted gloves into my workouts. Yesterday I did Fire 60 with them on and wow! It brought that workout up to a whole other level!
Today I did Tone 30
And HIIT 25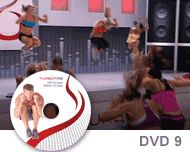 Both are amazing workouts. I have decided that since we are trying for a baby and I didn't want to get into a 20 week program. So I am doing 1 week plans for the toning. So last week I did Burn Circuits. This week is the Turbo Fire Tone and Sculpt.
Next week will be Push; following will be upper 20, lower 20; following week Lean Circuits.
I am then pairing the strength with HIIT workouts or one of the Burn it Off or Fat Burn Challenge from CLX. For my cardio days I am choosing between the all the Turbo Fire ones and the Burn Intervals. I pair cardio with my choice of ab workout.
Sundays is Yoga!
I had to laugh yesterday. I often get annoyed at people coming to my desk and going through my lunch bag to see what 'healthy' things I brought. Yesterday, I was bringing my lunch out of my bag when co-workers walked by, stopped, and said "lets see what Amber brought today...I bet it's just water and lemon slices."
This kind of pissed me off...they think I starve myself. Well I proceeded to bring out my lunch, which was leftover ham, salad and a yogurt. They say "see you eat like that and you can look like that." Then they went to the cafeteria and ordered chicken fingers and fries.
I had to laugh because the way they said 'if you eat like that..' was as if it was the most horrible thing in the world. In my head I was thinking - 'exactly. You want to look fit and be healthy, than it starts with your diet.'
Oh Here are some pictures from my Zoo race:
This is at the 2km Mark - I have the red under the white t-shirt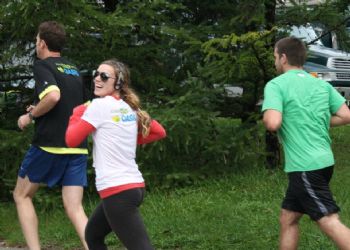 My brother and I.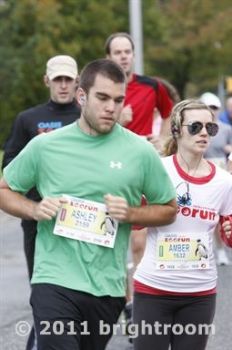 Really going now!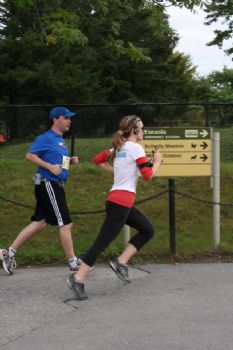 Finished in 50 minutes and 56 seconds! Woo hoo