Well, the tests last week did not go as planned. In fact, one of them was a midterm (ie - only 2 tests in the entire class) and I did horribly on it. Luckily, in vet school, my teachers legitimately want me to succeed. So my teacher will be meeting with a group of 20 of us on Wednesdays at 7am, before our other classes, to give us individual help. While this is great I wont be able to do my morning spin class since it doesn't get out until 7:15 + I would need a shower. I freaked out a little bit upon hearing this (there may have been mention of me willing to fail out of school because there was no way I was going to weigh 10,000 lbs ... ) and then I simply realized, I would just modify my schedule.
I have realized (a lot this year especially) that changing up your schedule is perfectly normal and quite often, necessary. I have always been a MWF fitness gal. I generally do the same classes at the same times with the same teachers. It worked for me. I developed a relationship with my instructors and I could plan accordingly every day.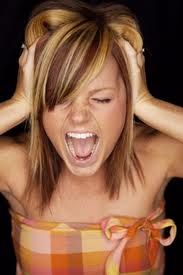 I find now that my schedule is ever changing. If I'm not in class, I have a tutor appointment. If I don't have a tutor, I am meeting for a group project. If I'm not doing that I am probably studying like crazy on my own. I find that a lot of people don't really care about working around my fitness classes. So I feel like I have been to every fitness class once and haven't really stuck with anything. But it hasn't stopped me yet!
So now my plan is to be more efficient with my breaks during the day and then go to Cy-Cycle at 6:30pm on Tuesdays with Jay. I was chatting with a girl before class and she said it was her favorite class that she takes and after class I can totally see why!
Jay was awesome! The class starts intense and ends just the same. I kept feeling that the other two cycling classes I was at weren't really pushing me to my potential. And while I know I could have pushed harder, I like to have a trainer set a grueling pace while I push myself to them. It is just the way I work best. In fact, I find most of the classes I take are listed as "INT/ADV" and while I am not in shape, I take them, work at my highest, and find myself better at the end.
This is sort of my workout philosophy: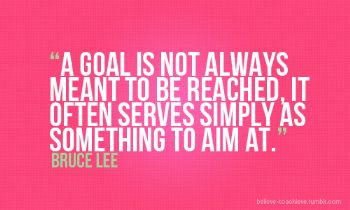 I feel so accomplished at the end of those tough workouts. Like I could literally take on the whole world. On a side note, maybe I need to spin right before my next test so I have that same high ... I wonder how my fellow classmates would mind my stench??
Anywho, Jay really pushed me. He had awesome music (better than the other two). The people in class were a lot friendlier (I made two new cycle friends) and he is pretty cute to top it all off. I mean, who wouldn't want to push yourself hard to impress your awesome instructor??
I am really glad I have developed this new love of spinning. I was always a little afraid of it. The seats are tiny for big butts, and the gals in class are even tinier.
This is what I pictured: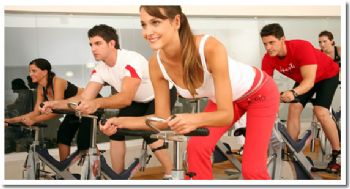 But I am loving this almost as much as my precious kickboxing (which sadly doesn't fit in my schedule this semester).
Closer to reality: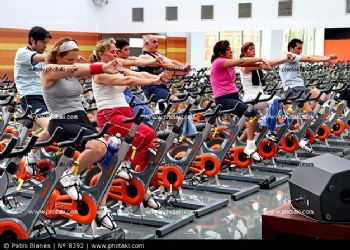 My nutrition has been decent these last couple of days. And I even cooked dinner tonight. (Big deal for me since cooking dinner usually means lean cuisine!). I need to better about my water on non-fitness days. It is just a habit I need to get myself re-into.
So while I am only going to be working out super consistently 2 days a week, it does add up to 105 minutes. I will plan on Spinning Tuesday nights and do BootCamp on Friday afternoons. I will try to add something on Sundays maybe, but most of the time I am still pretty sore from bootcamp. But I tell you what, 2 days and 105 minutes is better than 1 day of 60, which is still better than nothing!
I hope ya'll are having a good week. Today was really chilly here! I think it means Fall has officially arrived.

Strangely, I'm okay with it. I actually kind of love winter and can't wait for it to snow!

Plus, if it's fall, it means November is coming fast. Once November 9th is here I am done with tests until finals week. And once I am done with tests, I get to go home for Thanksgiving and see my wonderful family!!