In my last blog I shamelessly asked for your vote in a couple of contests I had entered. So I wanted to take a moment to let you know about the outcome of those contests.
First, thanks to your votes, I was a Grand Prize winner in the about.me profile contest, which landed my a spot on a Times Square billboard. Last weekend, I flew to NYC with my family to check out the billboard. It is larger than life! And it is Spreading the Spark far and wide. Here are a couple photos of my portion of the 30-second spot, which runs at the corner of 47th and Broadway in Times Square for 3 more weeks. New York residents and visitors are also seeing it as an ad in taxis! This couldn't come at a better time as SparkPeople has just released our second book, "The SparkPeople Cookbook," and we're gearing up for my first major workout DVD release in late December. Thanks again for your votes and for believing in me!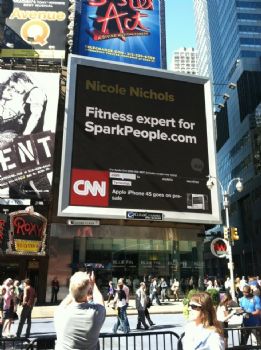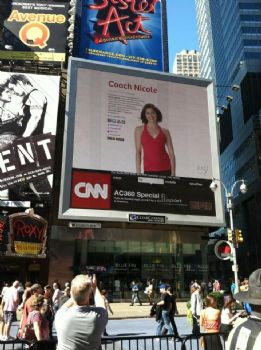 Secondly, thanks to fan voting on Facebook, I got enough votes to be named "Fan Favorite" in the Life Fitness and ACE "Personal Trainers to Watch" contest. As a prize, I won a $300 set of home workout equipment from Life Fitness, which I plan to give away in a dailySpark contest in December—stay tuned for that. And thanks for the votes—you guys rock! Even more surprising, I found out just last week that not only had I won Fan Favorite, but I was selected by a panel of judges as the WINNER of the nationwide contest and the title "America's Top Personal Trainer to Watch." This was completely unexpected for me—and I am just SO excited about this honor. Not only is it an amazing personal achievement, but it also adds that much more credibility to the work we are all doing here at SparkPeople.
On Friday, I flew to Chicago to attend the Club Industry convention and accept the award. I had to make an acceptance speech in front of not only the judges from those organizations, but the other 10 finalists, and a group of my peers—other personal trainers. I was SO nervous to get up and speak that my hands were shaking as I stood there, but I had prepared a short speech that I wanted to share with you guys here, too:
My Acceptance Speech
"I entered the fitness field with one goal: to help others. I feel incredibly fortunate to be pursuing my passions in a profession that that does so much good for so many and makes me feel excited about going to work each day.
We're all lucky to work in this field right now. Personal trainers love a challenge, and America's health and obesity crisis is challenging our profession to find out-of-the-box approaches that will help the millions of people who aren't responding to what's already out there.
One of the reasons I'm so grateful for this honor is that it shows how our industry is evolving to make that happen. Our profession making room for trainers who don't have a 'perfect' or ripped physique, but can still serve as healthy role models and help others achieve fitness at any size.
It's making room for a more nurturing, and less intimidating style of training than what has dominated the consumer fitness market in recent years.
And it's embracing the notion that trainers can use what is becoming one of the most powerful tools at our disposal—the Internet—to change countless lives.
Today, I couldn't be more honored to accept this/these award/s from these two outstanding organizations: ACE and Life Fitness. It is a privilege to be in the company of the world class trainers who are also being recognized here today. Thank you."
***
Thank you all for your support and feedback on the work I do here at SparkPeople. It's so touching to know that you respect my work and get so much from the tips, blogs, videos, etc. that I put out there. Thanks again for taking the time to vote and for the hand you had in helping me achieve these amazing honors!
Coach Nicole