Wow, I thought last week was hard? This one was even harder. Not that it didn't have its moments, but my emotions have been all over the map and I've been doing a lot of emotional eating. Yes, more raw cookie dough. I think I need to declare our house a cookie dough-free zone, so that doesn't happen anymore. Or at least I'll have to make a special effort to go out and get some if I get that way again.
So first I'll start with some good stuff, including the nice weather we had in Pittsburgh last week. It was like summer during the days, and still fairly warm in the evenings, so I spent as much time as possible outdoors.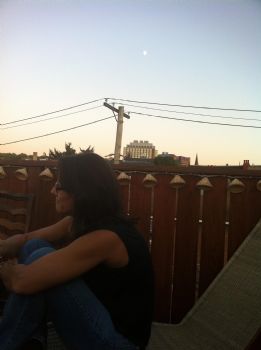 drinks and appetizers on our roofdeck on Friday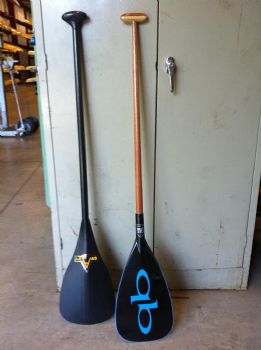 my new outrigger canoe paddles used on Sat/Sun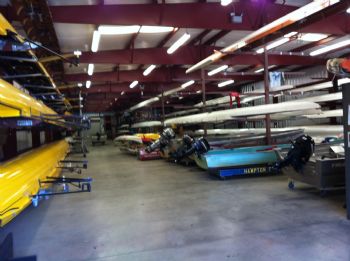 boathouse where my canoe is stored - sorry it's blurry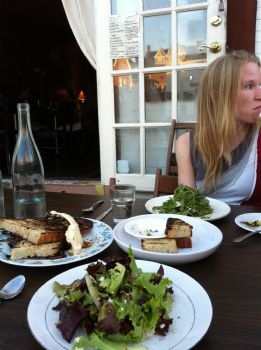 dining al fresco with my friend Ellen on Sat night
Now onto the goals. I think I did so-so again this week.
FITNESS GOALS - SUCCESS
1. paddling - I did great on this. Tons of mileage over the weekend and another hard but shorter paddle by myself on Wednesday morning in the pouring rain brrr unfortunately, my training partner had to cancel on me for the OC2 on Tuesday night because her car needed repairing.
2. running - did great on this, too. Ran 9 miles with my friend Rachel on Tuesday and then 4.4 miles of hills by myself yesterday.
3. ST - fail. I've decided to let go of this for now, and try to adopt it AFTER my OC race. It will be getting colder and I will be working out indoors more. Although I do have plans to attend a conditioning class this Sunday morning.
NUTRITION GOALS - FAIL
I've actually done alright on protein and fiber, because I made some healthy meals like this crockpot chicken and chorizo meal with brown rice and some thin pork chop slices with fake mashed potatoes (made out of steamed cauliflower blended with fatfree half and half and some butter). And I've forced myself to track M-F. But major fail on the calorie limits because of all the snacking I've been doing in the evenings.
OTHER GOALS - SUCCESS
Still doing alright with weight, probably thanks to my intense workouts, but that should change as I ramp up to my TOM. I always gain weight then, and I am expecting to gain weight anyway, since I have been eating more than I am burning more days than not these days. As for moisturing, I have been doing that almost every day, so I am definitely feeling good about that.
Overall, it has just been a very hard and emotional week. My relationship is struggling and part of that has to do with the fact that my partner is not in a very healthy place right now. Here is a pic that I took of her last Saturday, and she has barely eaten a thing since then, so I'm sure that she has lost even more weight. Yesterday at her DRs they did not weigh her, which I thought was weird, and when the PA asked her, she refused to guess but I am guessing 115-120 tops. She is 5'8. I know a lot of people think she looks fashionable, but I think she looks sick at this weight, and I know she isn't getting enough calories.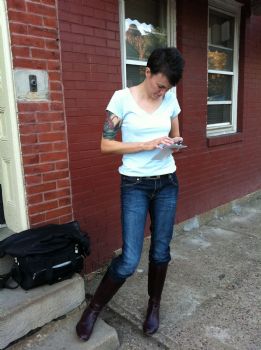 This morning I called a therapist that I briefly saw 4 years ago, to see if she has time to see me and to find out if her office is still conveniently located just a block from my office. I have just been crying too much lately and doing self-destructive things like emotional eating and not getting enough work done at the office. I can't help but wonder if some of it is the Tamoxifen, which I have been taking faithfully over a month now. But it could just be the combination of dealing with my diagnosis + work stress + relationship stress + fighting with my brother stress. I dunno. I just know that I need help.
Nat