I got really shocking news today. My roommate is selling her dog!!!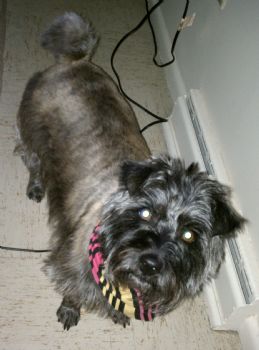 Here's some back story...My roommate (lets call her B) has been my friend since middle school (we are 22 now). She is extremely smart, but definitely irresponsible and forgetful. She got Juno, a carrion terrier, about 3-4 years ago. When she got her, my other friends and I weren't exactly thrilled because we know she likes to go-go-go and isn't the type to be able to handle caring for another living thing. But she surprised us and has done fairly well (for her anyways). Juno is healthy and happy, if not always clean.
Our other roommate (I'll call her H), and I moved in with B last year in August. B took decent care of Juno most of that time, but that's because she was home a lot. Her boyfriend practically lived here. Well, they have since broken up, and she now has a new boyfriend. This new guy is NEVER at our place. B always goes to his place, sometimes not coming home at all in a 24 hour period to let her dog out or feed her. B has basically taken advantage of the fact that H and I are such dog lovers and won't let Juno starve.
I just recently told B she had to be sure to make it home at least twice a day to take care of her dog and she needed to take Juno to the groomers (her hair was greasy and so out of control that we couldn't see Juno's eyes).
B did all that. Except today, a week after that conversation, B walks in and tells me that she has SOLD her dog. Sold her! To some guy half way across the country! I'm in shock! I can't believe she can up and sell Juno! This past year I have spent more time with Juno than B has, so I have come to love her like my own dog...and I could never imagine simply getting rid of an animal I love! It makes me so sad! When I told H, I'm pretty sure she cried, and she was definitely angry too. We both feel that people our age shouldn't get pets, and if they do, then they have to make time for those animals. Which B simply hasn't done recently. And she is planning on moving into a house alone next year and since she is in Graduate school, so knows she won't be home very often, even less than she is now.
Apparently she posted something online not thinking someone would buy her so fast, but they did. Some guy in New Mexico who has a carrion terrier and is looking for another to be his dog's companion (since his other dog died last year) called B immediately. B is shipping Juno off by next Tuesday!!!

I can hardly believe it. But I currently have mixed feelings. I know Juno deserves a better owner than B. I know she deserves someone who will devote more time and energy to her. And it seems like this guy might do that. But on the the other hand, I'm mad and sad that B couldn't make the effort to keep up with her responsibilities. I'm sad that I won't ever see Juno again. I won't see her cute little face again. I won't sit on the couch and have her cuddle up next to me anymore. I'm even going to miss her obnoxious high pitched bark!
So yeah...goodbyes are hard...