Wednesday, October 12, 2011
Well I've managed to deal with the 'Goodbye Food' cake that I mentioned in previous blogs. It was a very successful marble cake with really fun pink and yellow icing. It came out all fluffy and light. I managed to have two medium pieces on my last day of naughtiness, gave one to my house mate, one to my mum and one to my driving instructor...This my dears leaves me with half a cake. I put three pieces in the freezer and then....I ate QUATER OF THE CAKE! I'm not going to say it was awful and made me feel crap, it didn't. It was all I'd imagined it to be but this is against the rules!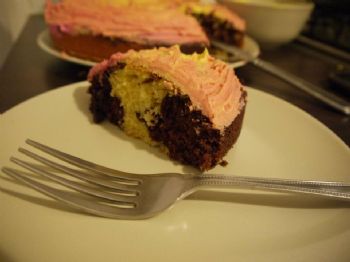 Today was a new day however. I've under eaten today by 400 calories so I could eat more or should I just take this in credit of the cake I ate yesterday? I'm not really sure how this works. I managed to get a half an hours walk in burning 167 calories. My target is 187 but after my MEGA sesh yesterday I was informed by a personal trainer friend you need to give your muscles time to develop. That part of the day I found easy as I'm naturally a coach potato.
Does anyone else out there have next to O will power when there is something tempting in the kitchen/office/bedside cupboard? I'm definitely an all or nothing girl. If its in the house I WILL eat it!