Wednesday, October 12, 2011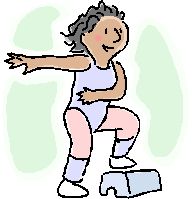 It's been over a year since I've been to a step aerobics class. I really enjoyed it but the timing was not good for me. Now there is a class that I can do at Fitness USA but I can only do it once a week. I figure that is better than nothing, and it would be a great exercise to do in between my couch to 5k running sessions. Today will be the first session for me.
Last night I went to the gym and I stayed there a record 2 hours! I left feeling very good. Drained but very good. I'm going to start getting cozy with the bench press. That area is always deserted when I am there. Women do not seem to want to try bench pressing. For now I can only bench press a whopping 10 pounds, but everyone needs to start somewhere!