Tuesday, October 11, 2011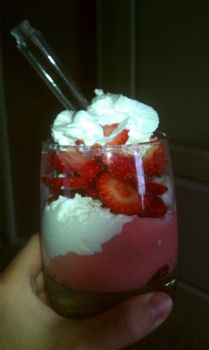 Had to showcase my saving grace this week! Strawberry Creme JELLO pudding made with skim milk. Add some fresh strawberries and a dallop of LITE whipped topping and you got one yummy dessert! Only 160 cals too :)
Another SHOUT OUT goes to my handy-dandy phone alarm system I created last Tuesday to help steer me in the right direction when it comes to weekend snack-attacks and dinner no-no's! I'm notorious for overloading my food intake on Sat's & Sun's but this helpful and SIMPLE reminder (before lunch and din din time on sat & sun) made me conscious of my meal choices and I can honestly say I HAD AN EXCELLENT WEEKEND!!!! YEA!!!! My calorie count stayed on track and I am so proud of myself!
It's such a good feeling to finally do something right. One weekend down....only the REST OF MY LIFE TO GO lol.
I stepped on the scale this morning and it read 140.4...I can do it & I am doing it!
Now, if I can only work in some work-outs now and then...
but I say SCREW THE WORKOUTS and keep doing what I'm doing - & that is watching my food intake right now. I definitely want to be able to workout 5-days a week...but for now I want to make sure I can maintain my healthier eating habits before I start adding another element to my already hard enough daily routine of just making the right choices and tracking my food.
To everyone out there - WE CAN DO IT!
& Thanks for the blog comments last week. My phone alarm description went as "?" but today changing my SAVING GRACE to "Continue to be a better ME!"... this description might even slap off my bad attitude I seem have at times lol and enjoy life a pinch more.
Happy Tuesday!