I've always had a love-hate relationship with the scale and I admit that I used to be very frustrated if the numbers on it wouldn't go down if I did everything right.
Getting healthy and fit required some major changes in the way I see myself and the numbers on the scale - I have just realized this during the last couple weeks.
But how on earth can one break free from the scale??? I received a good advice here on SP: take weekly (or monthly) pictures of yourself. Now, THAT was the LAST thing that would have come to my mind since I hated my pics being taken. But then again, we're all on the same boat here, right? So what would I have to lose?
I started (and finished) the C25K program and keep up my 3 runs every week. In addition I lift weights twice a week - well, I did take some time off ST here and there because my body needed to get used to running and was aching a bit. Never mind, I am back on the workout track, but this time more sensibly. I do not stress myself about it anymore. The workouts change in duration and intensity because I listen to my body, and it knows best when to take it easy and when to push my limits.
So I've dropped 9 lbs and nearly 2 dress sizes during the last 12 weeks. In Germany we have different measures (KG) and thus, 9 lbs equal "only" 4.5 KG. Now, this doesn't sound like a lot, does it? But being able to pull down my pants (which used to fit tight) without opening one single button sure FEELS great. As does my increased stamina and self-esteem.
Here come the pics I promised you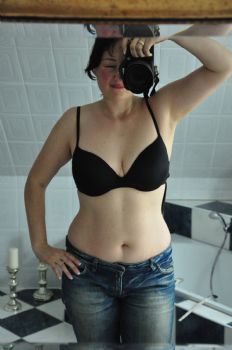 this was after week 1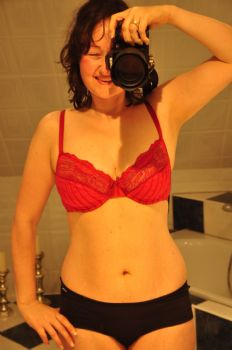 this is what I look like right now
I still think the scale CAN be a useful tool in weight control but ONLY if used with special care LOL.
DON'T DEPEND ON THE SCALE ALONE!
LISTEN TO YOUR BODY!
MEASURE YOUR SUCCESS WITH HOW YOUR CLOTHES FIT!
MEASURE YOUR SUCCESS WITH LOOKING AT YOUR FITNESS LEVEL!
YOUR DAY WILL ONLY BE AS GOOD AS YOUR ATTITUDE!
I wish you all a great week and keep up the good work!