39 Days until the release of Breaking Dawn
I'm photo blogging my food just to help me stay on track....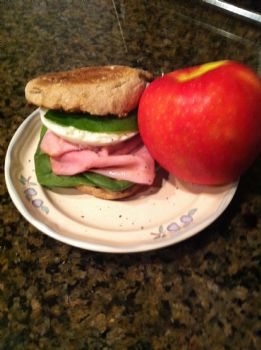 Breakfast - whole wheat english muffin, poached egg, fresh spinach and 1/2 serving of sliced ham. Apple and black coffee.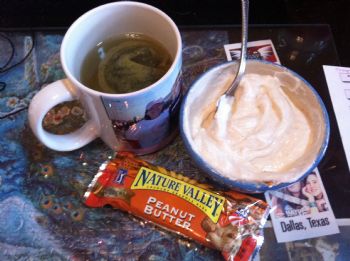 Mid morning snack - plain greek yogurt with truvia and cinnamon, a fiber bar and hot green tea.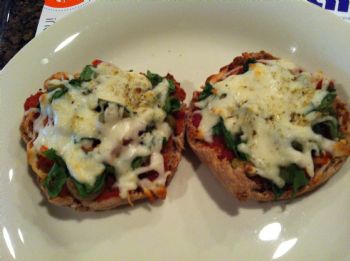 Lunch - whole wheat muffin pizzas with lowfat cheese, green olives, sliced red pepper strips and fresh spinach.
Afternoon snack after my workout was my favorite chocolate milk protein shake with a frozen banana, PB2, and some instant Starbucks coffee.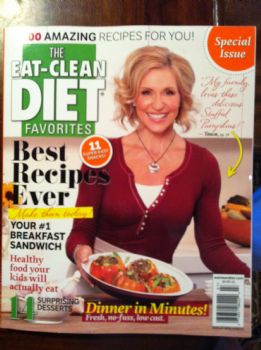 We were using this cookbook today to try two new recipes.
First the desert - little cheesecake treats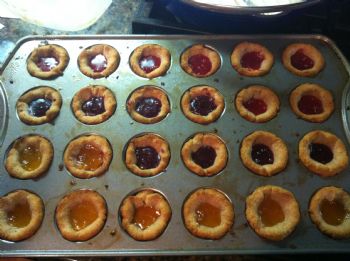 This is the base of the tart which is a whole wheat pastry and sugar free jam that baked together.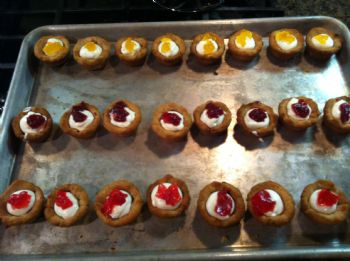 The topping is a mixture of fat free cream cheese, goat cheese, vanilla, etc. Then she topped it with a little more jam so that we could tell which one was what flavor. We tried strawberry, raspberry, and apricot.
They are 90 calories each and I ended up eating 4 - so my recommendations unless you are taking it to a party make 1/2 the recipe because you end up with too much in the house. We also decided that we needed to get pastry flour which the recipe calls for - the whole wheat made it a little too dry. I would also use 3 oz of goat cheese and 5 of cream cheese just to cut down on the zing. I'd prefer my cheesecake treat to be a little more on the sweet side. I really liked it chilled and it would make a nice desert with a cup of hot green tea.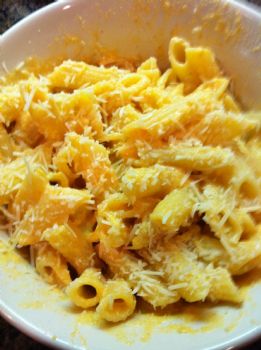 This was the best thing to me - Clean Eating Macaroni and Cheese - the only cheese in this was 2 Tablespoons of parmesan and a little sprinkled on top. Our compromise was "normal" pasta noodles since the girls do not like whole wheat.
The sauce is made with olive oil, flour, and skimmed milk. Then you mix in baked sweet potato, greek yogurt, parmesan, and a little more milk. I sprinkled mine with some cayenne pepper since I like the spicy sweet thing. All three of us thought this was a keeper. We served it as a side with broccoli, and grilled chicken.

i cannot believe that with as much as Spark Guy Chris talks about his trampoline that we don't have that as an icon?!?! I did 30 minutes of trampoline jumping today and 15 minutes of stretching and bicycle situps.
I believe that even though I ate too many tarts, that I am still in my calorie range for the day. I just have to cut out my evening snack and I'll be good.
It was a stressful day to start today - seriously stressful - but I tried not to let that get the best of me. My daughter had piano today and her teacher has a huge trampoline in the backyard. They don't care if I use it, so I strapped on my headphones and got out there and jumped in the sun to some of my favorite workout songs. It was great. Periodically I would take a break to crank out some situps and stretch a little.
So have you tried Clean Eating yet? Check out their magazine at Walmart or major bookstores, or online at www.cleaneatingmag.com.
What did you do to make it fun today? What will you do tomorrow?