Saturday, October 08, 2011
I see food blogs all the time. I love reading about and seeing what other people eat while on their journey to healthier living. After I fixed my quick lunch today, I thought, "I should take a picture of that and post it in a blog." After I logged the calories, I was even more impressed!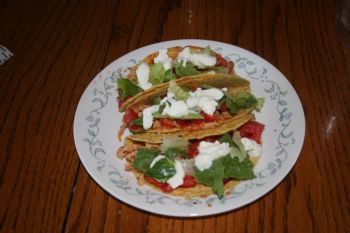 I had some cooked, shredded chicken breasts in the fridge. (I borrowed that idea from LISAINMS. She cooks up a pan, shreds the meat, and freezes it.) I weighed out the chicken and added a little chipotle seasoning. That went in three hard taco shells with a sprinkling of Mexican blend cheese, tomatoes, picante, and romaine. I added a dab of Greek yogurt in place of sour cream. All for 287 calories! When I ate a handful of grapes, it topped the scale at 312 cals. I love meals like that!