Wednesday, October 05, 2011
I wanted to do something different for my 60-lbs lost post, and not just a photo comparison like when I hit the 50-lb mark. Instead, I convinced my husband to do a happy dance with me on camera (my reward for losing 60 lbs!).
Keep in mind as you watch this that 1) it was shot at night in a hotel room, so the lighting isn't great, and 2) it was shot from THE WORST POSSIBLE ANGLE. It's highly embarrassing, but part of my goals over the summer was to lose my self-consciousness, and I'm not going to stop doing that now! Besides, we must be good - listen to all that applause!!
Now I won't leave this post without *some* photo comparisons. Here are a few that really show how far I've come.
Then versus Now. 255 lbs versus 195 lbs. Awesome. This comparison makes me very happy.
Then versus Now. 255 lbs versus 195 lbs. I still have a ways to go, but I'm happy with this progress!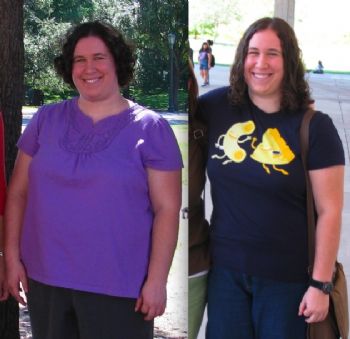 Book festivals, October 2010 versus October 2011. 240 lbs versus 195 lbs. This very well might be my favorite!
Losing 60 lbs has been great in more ways than I can name. I can do so much more now than I could before. I can't wait to see what doors open up for me in the remaining 40 lbs!