My sweet new ride!
Tuesday, October 04, 2011
Here she is...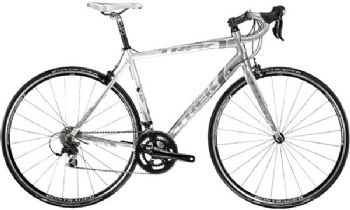 She doesn't have a name yet. I'm still working on that. Lorraine keeps popping in my head and I have no idea why. I don't know anyone named Lorraine let alone anyone FAST named Lorraine. Maybe she has ESP and is trying to tell me that's her name. My DH called her "Silver Bullet" and I quickly corrected him that she would take offense to being named after a can of beer. She may be aluminum, but she is no cheap thrill!
We've been on two rides and while I'm definitely still learning, I'm doing great with gear changing and road handling. I've had her up to 30 mph. Not quite so fabulous with the clip-in pedals -that needs more practice. I fell over going up the driveway. Yes, I know that sounds stupid. Getting to my driveway is uphill. Then there's a small entry point between the driveway and road that is less of a bump up so that's how I go up to not bang the tire up the 3" bump that is most of the driveway. Except it's right on the side and steep. So I'm already slow coming up to the driveway, then very carefully and slowly going over the bump only to hit the steep corner which brings me to a crawl and balancing act as I pedal out. Well the balancing act on skinny tires didn't go so well and, as I wobbled, I yanked my foot (by instinct) to put it on the ground only it was clipped in which sent me crashing to the ground. Luckily it was a cold morning and I was well covered. No flesh wounds and no injures to my bike. Just a really awkward tangle to get myself unclipped while hoping no neighbors were peeking out their windows. I think for now I will unclip on the road and walk her up the driveway.
How I chose her.... went to the local bike shop and test rode several different bikes. I had decided on the Trek Lexa SL (same as a 1.5, but Lexa is a "woman specific design" which includes a woman's fit saddle) as it had Shimano Tiagra gears (a step above entry level) and I liked the feel of the ride. A 2012 SLX (same as 2.1 with Shimano 105's) was in the rack next to it, but it was a 47 so I didn't ride it. And it was more than I was willing to spend. I didn't buy the SL that day because my DH was out of town and I wanted to wait until he would be there since it was my birthday (and Christmas and Anniversary and...) present. I went home and just to assure myself I wasn't missing anything, I looked again on Craigslist. And there she was at the top of the list just waiting for me! The seller didn't put the equipment specs, but I recognized her right away with the silver handlebar tape - 2011 SLX. In my size. In my price range AND she was including all of the gear. Yes, the shoes were my size. Crazy, right? It was too good of a deal to be true. I emailed right away because she was in a city that my DH would drive through on his way home (3 hours away). But that evening I had no reply. And I was sad because I knew we were meant for each other. I sent another email. The next day another. Finally on Wednesday morning, the seller called and said her email had been out and she just received my message. She said another person wanted to come see it on the weekend. I said "I don't need to see it, I'll send overnight a deposit for you to hold it until I can get there this weekend to pick it up". She laughed and told me she just didn't enjoy riding like she thought she would. She bought it because her trainer was a cyclist blah, blah, blah she has lost 50 pounds and is enjoying trying new things she wouldn't have done a year ago. What a coincidence! So we hit it off and traded stories. Then we made a plan for my in-laws to pick up the bike on Saturday on their way to meet us for a football game. I was nervous until my MIL text that she had the bike and all was well. And when I finally had her home, I put on those shoes that fit, the matching helmet and climbed on for a quick spin only to realize that the fit was perfect. I had expected to need the seat raised or lowered or something. But she was already perfect for me. We were destined to be together! (either that or Karen and I are long lost twins!) I'm still gushing over my good fortune to have found her. I love a bargain, but this was like bargain plus bonus. I got a better bike than my budget allowed, with all the gear and she looks brand new with all of 158 miles on her. I am happy happy!! And I think she'll be happy with me when I can clip-out and not fall over with her.
Ride on, Sparkpeeps!