Today's blog is a combination of today's run and last week's run (no time to blog), and just fun pictures from the AFM.
It's been two weeks since the AF marathon, and life at the base is back to normal. This morning's run was the first cold weather run since spring. It seems like such a long time ago now, but it was only April when this temperature was the norm.
My first marathon, a half, was 3-April 2011. That was a cold run! Now I'll be closing out the year of scheduled marathons with the Marine Corps Marathon. It looks like that will be a cold run as well; you would have thought I'd planned it that way.
I bring this up because I'm not much of a cold weather person when it comes to running. When I first started training for the AFM, in one of my blogs I must have complained too much about the cold. Can't remember who responded back but what they said was, "Bud, marathoning is an ALL weather sport- get used to it!" With that being said, it was STILL COLD this morning, 38 degrees with a light wind! But what a beautiful morning- the sun was just rising; there was a red glow on all the buildings. The base was devoid of any traffic; it was just me and the new day.
Enough introspection- picture time!
Last week's run was designed to just get some mileage in, and some running time. Boy, did I do that. I've done this run before, Beavercreek to Dayton, but I should have checked the distance better. The estimate was 20 miles; the actual distance was 23+ miles. But when you're doing a training run, that difference really is not that much, because the pace is slower.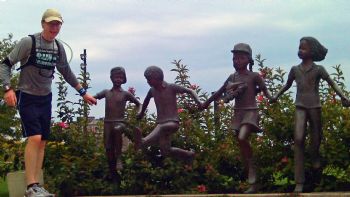 This first picture is at the turn around point of Beavercreek to Dayton. Just goofing around- I figure everyone had seen enough Wright brother statues for a while. That was a great day to run. The temperature was 65 degrees with no wind and sunny- just a great day to run.
This is me this morning getting ready to face the COLD run today. I was having a hard time getting motivated. I threw a whole set of cold weather gear in my bag just in case!! I selected the base for the run today, because I could do these 7 mile loops, which meant that if I did not have enough or had too much gear, I could just change after a loop. As it turned out, I stayed with what I started out with for the whole run.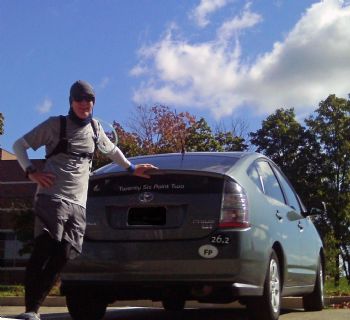 Had to include this picture! It shows the newest stickers, first the "26.2"; this replaced the "13.1". AND the second is the REALLY cool decal "Twenty Six Point Two," which I just love. PS: If you want that one E-mail "BILLALEX70" he can hook you up.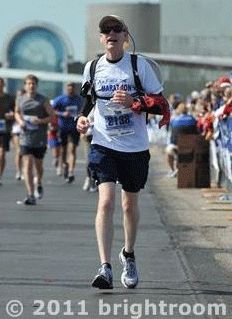 Now this is not from today, but from the AF marathon, I call it "catching air," meaning I was still going airborne even after 26 miles of running. All I can say, what you see, and how I felt at the time were very different, but I do remember thinking just "RUN GUMP"-- the food tent is right there.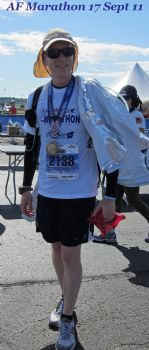 You've seen this picture on my page and in previous blogs. I like it because it just has that majestic look. (AFTER the food tent)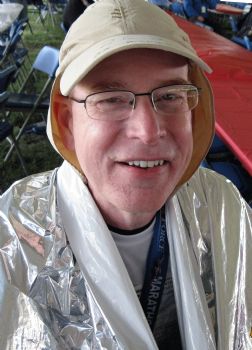 Well this is what I looked like half hour later, freezing, chowing down on Skittles, trying to build up my strength to walk to the van.
There are only few more long runs left, and then it's off to DC, for the Marine Corps Marathon. I'm toying with the idea of doing a ½ marathon between now and then, I but just don't want take a break in the training. I'm working on developing my running form, to see if I can beat the AFM time.
My biggest fear at this point is injuring myself, and not making the MCM, by doing something dumb. There is just too much at stake. That run is for family and friends and their loved ones, don't want to let any one down.
It's now down to less than 28 days until Gump takes on the Marines! (Still time to join the run)
Everyone have good week and BE SAFE!!!
Join the Run: "Live with Honor, Die with Dignity"
www.active.com/donate/ru
ntoremember2011/TMcCour4